Hello World !

                and
  

       Welcome to our September - October Newsletter

First and foremost: My apologies for having to combine my September and October world. I have been having difficulties juggling writing for the Clarksburg Post, preparing Volume II of Life Through These Eyes for my publisher, working in my vegetable garden, canning pickled peppers, canning peppers in tomato sauce, helping Sandra maintain her flower garden, with much supervision; and working in as much time as possible for golf. 
For those who know me well, you can attest to my inability to stay organized. That is where Sandra comes in to play. She has spent her professional life keeping people organized. Now she has turned her attention to assisting me with organization. One of my largest problems is "forgetfulness."  Unfortunately, Sandra spends much of her day reminding me about all the chores and responsibilities I should do but forget to do. Yes, it does become irritating constantly hearing, "Mike, don't forget to...." And receiving a "To Do List" when I leave the house, but both are necessary.  I admit this to you but never Sandra. 
I

was so concerned about my forgetfulness, I even discussed it with my family doctor. After a very long conversation about what my days and weeks were like Dr. "B" came to this conclusion, "You are just putting too many thoughts into your brain at one time. Nothing is medically wrong." I interpreted this as, "Putting six gallons of water into a five gallon bucket - I lose one gallon. So, with Sandra's help, I am making lists, checking them twice, sticking them on the dashboard of my truck and crossing them off when completed. Most importantly, I am only pouring three gallons into the bucket - yoga helps!
Later in October, my book Life Through These Eyes, Vol I, will be on display at the Frankfort International Book Fair in Frankfort,  Germany. The Fair begins October 19th  and runs through the 23rd. I so wanted to attend the fair but circumstances will not allow.  This is the largest book fair in the world and is attended by thousands every year. When the fair opens up, the displaying publisher will send pictures and I will post them on this website. Who knows, there is always a chance the right person with the right publishing house will have an interest in my book and select it for  international printing. I know the odds are better for winning the lottery but who knows. Wish I could be there and just absorb the experience.
My book signings at the Harrison County Senior Center in Clarksburg West Virginia and at the Bridgeport Public Library in Bridgeport, West Virginia were hugely successful. I can not say enough abut how each facility made me feel welcomed. One of the wonderful spinoffs of the Senior Center signing was the idea of forming a Book Club.
The first meeting was set for September 30 and was largely organizational. The club selected my book for the first two meetings. During the first meeting, we did have time to discuss a couple of my stories. However, the second meeting,  scheduled for October 28th at 12:30 p.m. will be totally devoted to my book. We also made several suggestions for future readings and hope to partner with the Clarksburg and Bridgeport libraries. At the conclusion of the October meeting, the book selected for November will be distributed.
I would like to thank Bill O'Field, Center board member, and Center Director Beth Fitzgerald for coming up with the idea and providing publicity and space for the club. Someone asked me what we hope to accomplish. I placed my response on the poster.
September and October were not all work and no play. About my only recreational activity is golf. I try to play at least once a week and perhaps more if there are tournaments at my home course. I call Sunny Croft Country my home.
It is a 9-hole course with 18 t-boxes. While other area courses are suffering fungus and blight on the greens and fairways as hard as interstate highways, Sunny Croft is the exception.The fairways are pretty good for this time of year and the greens are in PGA - Tour shape.  Sunny Croft was opened in 1934 and is still going strong today.
Contact me if you are in the area and would like to play the course.

I would be happy to show you around and introduce you to the membership.  However, playing a round with me can be challenging. I m basically a "bogie" golfer who still suffers from one or two "blow-up" holes a round. But, it is what it is - humiliating but still fun.



I also had the pleasure to be with two friends of many years: Barbara (Hurley) Farina and Dave Williams.  Dave invited me to play Green Hills, near Fairmont, West Virginia. Dave and I played high school basketball together, he a year behind me. Barbara, we literally grew up together, with houses beside one another. I have known Barbara for 64 years. As a golfer, she took me to school. Let's just say - she won big!
My biggest pleasure this period was the enormous satisfaction of sending Volume II of my book, Life Through These Eyes to my publisher. We have several steps remaining: Editing, book cover design, trailers, marketing strategy and more. If all goes well, I am hoping for an early spring release. You can follow me daily on Twitter (mslamb45) for updates or on FB (Michael Lambiotte)
Sandra and I are still writing our monthly columns for The Clarksburg Post    http://clarksburgpost.com. Click on "Columns" at the top.  Sandra's is called "Creating Beauty"and mine " Michael's World."  Sandra's most recent column is about what a garden does for the soul and mine is a bit less philosophical: I talk about, and share, a time-tested family recipe for pickled peppers that is three generations long. The story is about more than pickled peppers. 
And lastly, I want to wish Sandra a Happy Birthday. This Tuesday, October 11, Sandra will be...("Only a fool reveals the 'unrevealable") pampered to the maximum. I have told her she can plan (or not) every aspect of the day. I will see that her every wish is granted and follow her instructions to the letter.  My only request, as always I prepare a meal of her choice, that she will make a decision by Monday. No doubt, her choice(s) will require a special trip to the market. So.."Hi Ho Hi Ho" it's off the the market I go in search of, I am guessing, some sort of seafood.  Oh, how we miss living by the seashore and having access to truly fresh seafood. However, these majestic West Virginia hills have sheltered us from natures fury when we were growing up and for the last 11 years. And, for that, we are eternally grateful.

And finally to Sandra: You have been beside me since I was 16 and you 15. That comes out to  51 years of putting up with my ego, my mood swings, my dreaming, and my absent-mindedness - for starters.   We have climbed mountains together. We have weathered many storms. And now, we are sailing into the best times of our lives. We have become a "Circle of Two."  

 
On this very special birthday, I have one wish - to make your heart smile. 
Until November arrives, that's about it from  "My World"
Follow us:
The Clarksburg Post  http://clarksburgpost.com
                                                                                          FB Michael Lambiotte      FB Sandra Lambiotte
Twitter  mslamb45
Upcoming Events
October 19 - 23 Frankfort International Book Fair

October 28....Harrison County Senior Center Book Club



Was very excited about holding a book signing at the Harrison County Senior Center in Clarksburg, West Virginia.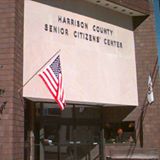 (l-R) Bill O'Field, Center board member; Director, Beth Fitzgerald; board member Joyce Rabanal; &  me.
 Two friends stopped by: Andy Walker, Editor of the Clarksburg Post and Keith Dumas, who I met through Rotary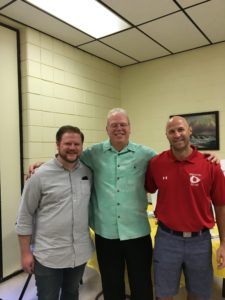 The Center provided a wonderful book display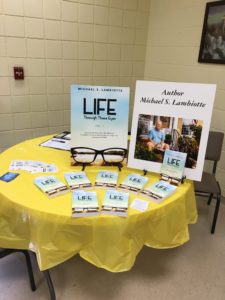 Later in September Bridgeport, West Virginia Public Library hosted a book signing.

 Librarians Sarah Nora (burgundy) and  Amy Eakle are incredible. Amy is the Children's  Librarian and Sarah the Technology Librarian.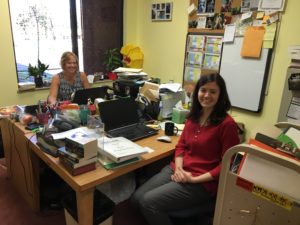 These two are a great asset to the Bridgeport Library.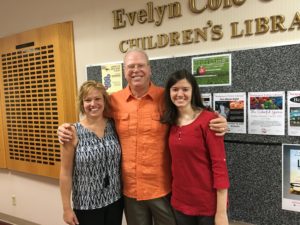 Also met (again) the son of a childhood friend (Dr.) Jim Genin. One of his three sons (Matt) came by to say hello.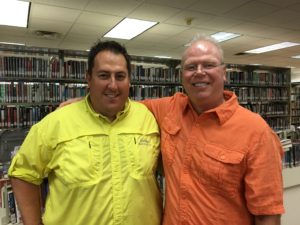 The second half of September and part of October,  I found time for some golf.
Old friends Rex Carder (l) and Sam Scolapio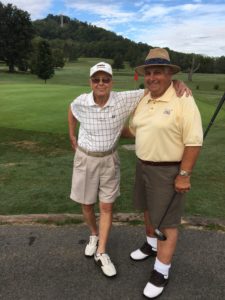 Also played in the Kelly Miller  Foundation Tournament with three new friends. (l-R); Steve Jones from Maryland's Eastern Shore, Connie and Cleo Gentry from Detroit.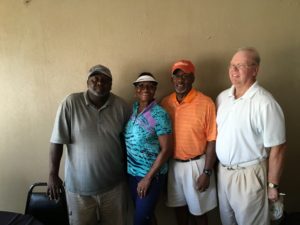 While at my home course of Sunny Croft Country Club, I ran into these four  "characters:"
(l-r)  Mike "The Hammer"  Ash, Randy "Puff Daddy" Barker,  John "Ice man" Cool, Bill "Needle" Goodwin. The stories behind the nicknames are as interesting as the men.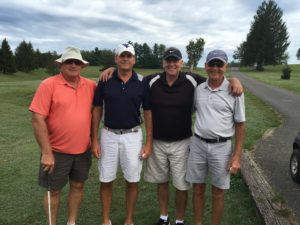 Also played at Green Hills Country Club with Barbara (Hurley) Farina and Dave Curtis. Barbara and I have been friends for 64 years and I played high school basketball with Dave.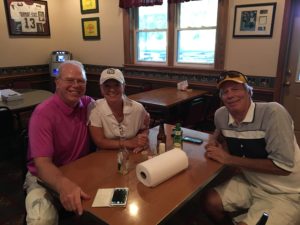 Very proud to be the "launch" author with the Harrison County Senior Center Book Club.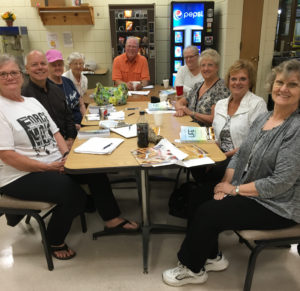 And I will end October pleased and nervously-anxious: Volume II of Life Through These Eyes was sent to my publisher the first week of October.