Dear Friends & Visitors:
Welcome to my March World;
Our Kitchen is Finished !
Just wantd to update everyone on our kitchen remodeling. Or as Sandra called it "a re-muddle."  She did a marvelous job  of saving thousands of dollars buy going against the recommendations of a local kitchen company who wanted to gut everything down to the studs and start from scratch. We now have re-worked  beautiful "functional" cabinetry, a regal-looking Brizo faucet, new deep double bowl sink, quartz countertops, a new dishwasher, and cooktop.
For all the details you must read Sandra's column in The Clarksburg Post  -  http://clarksburgpost.com/columns. She is writing a bi-monthly column  about home-garden design - sensible and practical solutions. Her column is titled "Maison de Jardin" by Sandra. This particular (kitchen) project is a four- part series covering cabinetry, countertops, tile work, and Part IV - a recap with a complete gallery of photos. Part four will be published later this week.
The response to these articles has been very encouraging. Sandra is just one more example proving of creativity does not require a string of degrees. If you are in the North Central West Virginia area, do not hesitate to contact her for opinions and advice. Her column is opening doors neither of us expected.
Second & Center Café
I had the privilege of  holding a book signing at the Second & Center Café in Weston, West Virginia on March 14. I must say, this was a most pleasing and successful experience. The only down side, the café was closing the next day. The owners just needed a break, and I could see why. Andrea and her son Josh make all the food from scratch and do all the cooking. The two young men, their waiters, were first-rate. Very attentive. Looking dapper in their Donegal cap and Bogart fedora.
The atmosphere was very "throwback" -classic rock music and an eclectic gathering of furnishings. I enjoyed just watching the patrons come in, hug, greet one another and enjoy fine lunch fare.  At precisely 11:00 am (opening), two ladies crossed the street and one of the waiters said, "Here they come." The two ladies come for lunch every day. Within a matter of minutes, all 11 tables were filled, with people waiting.

AND, the food was fantastic and very reasonably priced. Andrea told me she developed all the recipes herself and the two choices I sampled said just that - the chicken salad and pasta salad were very unique. Flavor combinations I had not tasted before.
It did remind me of the bar "Cheers," of television fame - in the way everyone was so friendly, knew one another by first names, introduced newcomers around (me), and talked about family and friends. This café will be missed. I offered to help them re-locate but they just need a rest. Every good thing must come to an end - unfortunately.
The Clarksburg Post - North Central West Virginia's

  Newest

& Best
On-Line Newspaper

Beginning in early Fall 2015, the Clarksburg Post http://clarksburgpost.com  has rapidly grown in  number of readers and subscribers. You can also follow them on Facebook. Sandra and I are proud to be a part of their family.  We are both writing bi-monthly columns. My topics vary from human interest to a little current events. My background in political science will only stay in the wings so long. The column is titled "Welcome to Michael's World."
Sandra's is all about "Creating Beauty." She is about to enter her "Flower Phase" with everything coming up roses, peonies, daffodils, and so forth. Unlike many designers, she is practical and straight-forward. She divides her love-interest equally between interior design and garden/yard design. She leaves the grass to me. Her column is titled "Creating Beauty."  She displays a unique gift which savors the old and re-works the present.
For Instant messaging and updates, you can follow us on Twitter... mslamb45.
Well Friends, it is about that time again. Looking forward to hearing from you.
Until next month
Michael
Upcoming Events
April 5:

Lewis County High school, Weston, West Virginia. 9:00am. Speaking to Creative Writing Classes.
April 6:

 

  

Book Signing , Lowe Public Library, Shinnston, West Virginia. 12:30  - 3:30 pm
April 18 & 19:   Baltimore Marriott Waterfront Hotel, Baltimore, Maryland.  1700 Aliceanna St. 410-385-3000  6:00 - 8:00 each day.    
Wonderful time at Second & Center Café. Stopping by to chat and purchase books was Dr. Jim Shaver. Dr. Shaver and his family were regulars at the Café.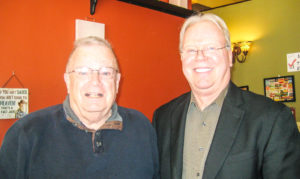 Cindy Shaver and her daughter Megan. Thank you Cindy for making all the contacts with the Café and the Weston Democrat. Cindy and I have been friends for 60 years.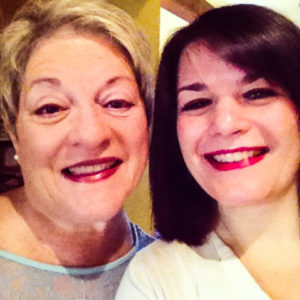 Two great ladies. Pat Kiddy (l) and Nancy Colburn. This was a wonderful place. Like "Cheers" - "Where everybody knows your name."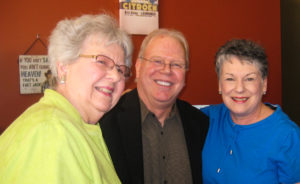 Nancy is a retired English teacher from Lewis County High School..  Now, she teaches English as a Second Language.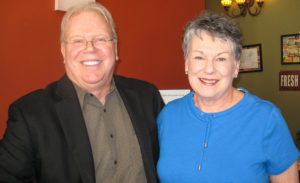 The owners of the Second & Center Café. Andrea Evans and her Son Josh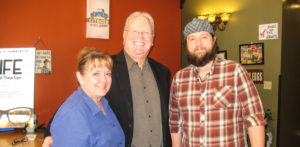 For close to 10 years, the Second & Center Cafe was a main-stay in Weston. It will be missed. "Thanks for the memories"