Dear Friends & Visitors:
  

       Welcome to my Holiday Newsletter

November has been a very busy month and we anticipate the pace will slow down in December.  For my first book "Life Through These Eyes." Vol I,  it has has been a very good year. The book was very well received locally and moderately nation-wide. The highlight was when my book was placed on display at the Frankfort International Book Fair, in Frankfort Germany This is the largest book fair in the world, with thousands in attendance. The book was displayed by Forward Reviews.The pictures (below) are part  of their display in the Main Hall. 

If you look very close, you will see my book (follow the red arrow) on the shelf below the book that the lady below is holding.

Although the book did not receive any international attention i.e  - it was not selected for international translation, the experience was one I will always remember. My only regret, other obligations prevented Sandra and me from attending the fair. However, I am already making plans to enter Volume II and again Volume I in the 2017 fair.  I am also considering other international and national venues.

One of the "perks"  Forward Reviews offered  was to have a lifetime listing in their Rights Catalog. Here is the link:  https://www.forewordreviews.com/rights-catalog/books/life-through-these-eyes/  Also, the Sales Sheet was something I worked very hard to produce. With their help and editing, I think it turned out pretty good.


I have plans to use this Sell Sheet at other events and book signings.  Not wanting to invest the time and money working with a graphic artist, Forward Review provided the basic template and I just plugged in the required information. Working with Forward Reviews was a real pleasure. Their staff was quick to answer my questions, did not hesitate to suggest editing, and "did what they said" when it came to representing my book in  Frankfort.
This is just a short excerpt from their Mission Statement, "At the end of the day, the real indie strength is YOU!—book people who recognize the importance of supporting a vibrant free press in this country, one that fearlessly speaks truth to power, and defends those who are marginalized by racism, sexism, inequality, homophobia, anti-Semitism, et al. Important books provoke dialogue. Dialogue encourages tolerance. Tolerance leads to… You get the idea. Viva indie." I would encourage you to visit their website www.forwardreviews.com to read more about this independent publishing company.
The rest of December and January will be spent with my publisher, working on Volume II of Life Through These Eyes. Currently, we are just beginning Phase 1 (Editing). There has been some concern about the quality of a few of the photos I want included in Volume II. Initially, they said the quality was poor and might appear grainy in print. With the help of an old high school friend, Ken Moffett, he suggested,  and I applied, a program designed to enhance the pictures. I have re-submitted them and I am just waiting to hear.  Obviously one picture is not clear because it was taken in 1949. The others were recent pictures with a poor quality camera - my fault.  I hope all works out because they will really add to each story - in my opinion
Phase II will be the Front and Back cover design.  Phase III  will be the interior layout. and the Final Phase will be the proofing, before it goes to print. All that being said, I am 'hopefully' looking at an early-mid Spring release. 
The only book signing I have scheduled in December will take place on December 10 from 1-4 pm at the newly opened business, Four Horsemen Comics & Gaming, in Meadowbrook Mall, Bridgeport, WV. 
The business just opened on November 1 and  offers so much more that what the title indicates. Go to their Facebook page for a full explanation of events and activities. The owner, Mike Tressler, graciously allowed me to hold my December book signing at his business. Adding to the excitement, Major Harris, a West Virginia University football legend, will also be there to sign autographs. As I have posted on Facebook: This is an opportunity to purchase two or more unique and personalized Christmas presents. An autographed item from Major Harris and my book, Life through These Eyes - signed and personalized .


Lastly, I am very proud and excited  to announce Sandra will be launching her own Website/Blog. It will be titled "Maison de Jardin." She will be combining stories about creating beauty in and around one's home and offering "E-Design" services to those who are seeking timeless beauty and functionality within their own homes and gardens.  If all goes as planned, Maison de Jardin will be up and running in January. 
Likewise, I am in the process of redesigning my home page, creating greater focus on my blog and  easier access to points of interest. I hope you will follow Michael's  "Hello World."
It is now time to say good bye until next month. With the holidays quickly approaching,  Sandra and I wish you Health, and Happiness. Hug your family, cherish your friends, love your pets as they love you,  and be so kind to the less fortunate.  For we are all only one bad decision from  becoming  "less fortunate." 
Michael
Upcoming Events
Book Signings for December

December 10
Four Horseman Comics & Games
Meadowbrook Mall, Bridgeport, WV
Across from Marshall's
1 - 4pm
This was in October with my good friends (l-r) Sonny Donaldson, Pete Kaites and, Rex Carder. Rex and Pete are both 93 and actively playing 2-3 times every week. Their story is featured in http://clarksburgpost.com.  Columns   Michael's World. 
A video of the day with music from Glenn Miller is on my home page.
At Sunny Croft on my last "shorts day" for 2016

Sunny Croft hosted their final Elimination Dinner of the year. Proceeds going to equipment upgrades. Full House!
Highlight for me at the Elimination Dinner is having my picture taken with The First Lady of Sunny Croft - Jeannie Marsh.
Listening to my friend Pete Kaites and Jeannie spin stories about the 1950's at Sunny Croft was a living history lesson.
Anther highlight in November was celebrating with my friends Sony Donaldson and Sheriff-Elect of Harrison County, WV., Robert Matheny at Village Square on election night.
First snow fall of 2016 put a soft blanket on our front yard the Saturday before Thanksgiving.

Our backyard - gardens asleep for the Winter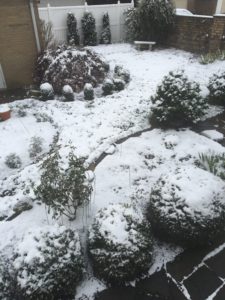 We do our best to have our home ready for "The Grand Illumination" the day after Thanksgiving.
Sandra is responsible for this gorgeous tree. I just do the set up and let her create beauty. She knows where each ornament came from and when.
Our mantle - simple and elegant. The violin came from the mountains of West Virginia. The carolers are one of my favorites.

I unpacked and set up our Department 56 "Snow Village." One day to unpack and one day set up. An intense day.
Every building, house, and accessory - there is a story. We started collecting in the middle 80's. Complete Story in http://clarksburgpost.com.  Columns  Michael's World  "The Collectables."
Their artist detail is extraordinary.
A piece of needle work  hangs in a very special place in our home. It was done by Sandra's childhood friend Janet. They have been friends since they were 3 years-old. AND that is a very long time. Very long.

Janet also did this beautiful piece for our kitchen
One signal that our kitchen is open for the holidays is when Sandra bakes her fruit cakes. She drizzles Vavados (French apple brandy) once a week. The taste reduces me to muffled animal sounds.