Welcome to my May Newsletter
I am excited and relieved that Volume II of "Life through These Eyes" was finally released - released nationally on April 26, one month a head of schedule. If you decide to order a copy, and want it signed and personalized, order it through my website. If you live close to north central West Virginia, go to my events page. There are several scheduled signings in the area.
If you are interested in a set (Volume I & II), contact me at michaelslambiotte.com. I am offering a discount on sets.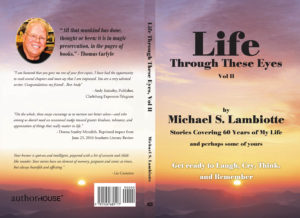 Volume Il was launched locally on May 13 at the Harrison-Clarksburg Public Library in Clarksburg, West Virginia.
The first person to purchase Volume II was Carol Moebus-Baker (l) who actually purchased a set. Barbara Joyce (c) also bought a copy as did long-time friend and supporter Pam Bokey-Mitchell (r).
Dan and Donna Reaser (l) also stopped to purchase  set. I also ran into City Council Candidate Ryan Kennedy and his wife and fellow author with their two daughters. Others stopped by to purchase and visit (l-r) Kendy Clutter, Carol Brown, and Bill O'Field.
If you are out and about shopping or visiting in the Harrison County West Virginia area,stop by Artworks in Bridgeport, West Virginia. They have a wonderful selection of art and unique gifts. They also carry Volume I of my book. I will hold a book signing at Artworks on July 22.
I am still working with my publisher, AuthorHouse, to complete a few details with the marketing of Volume II, one of which is a book trailer which should be available on YouTube and other media outlets in the upcoming weeks. The book is also available through Amazon, Barnes and Noble, and Books-A -Million
.A brief explanation why Volume I is not available through national retailers: The publisher of Volume I is no longer in business, therefore they cannot supply the retailers. However, I have a books available through my website and will have them available at local signings. By Fall, I will begin work with AuthorHouse to re-publish Volume I.
In the meantime, here is the publicity release for Volume II:
    " Remember this as you read "Life Through These Eyes, Vol II:" There is always a 'story within a story.' I am often asked, "Are you characters real?" "Oh yes, they are all real -  very real to me. I loved a few. Disliked many. And spent years trying to forget some." The book coves six decades of my life: stories of love, exceptional friendships, pets raising humans, marriage at its best and worst, really mean people, holiday memories, men being men, and much more.
      At age 58, I discovered I had a message I wanted to share: A message which contained memories from childhood to retirement. Wonderful, and sometimes painful, life-lessons. Praise and criticism regarding my community. And events and people which made me angry and disillusioned. I found an outlet for many hurtful experiences. Plus, I found a way to channel my political feelings. Writing became my therapist."
Here is a review of the book by Liz Comeros, Marketing Manager for Company Confidential in Manhattan:
"Your humor is absolutely spot-on and intelligent, peppered with a bit of sarcasm and childlike wonder. Your stories have that element of memory, poignant and comic at times, but always heartfelt. Your language is simple and friendly, waved seamlessly in your narrative that is consistently lighthearted and warm in tone. Your experience as a teacher shows in your elaborate, playful descriptions and your sharp, unpretentious irony."  – Liz Comeros
Well, friends and followers, that is about it for May. 
June will be filled with book signings, time set aside for a little golf, working in my vegetable garden, helping Sandra in her flower gardens, and working on my next writing project.
Until next time, keep your ship headed into the wind.
Michael
Upcoming Events
June Events
Book Signings ; Vol II just released. Volume I also available
June 15 - Clarksburg, WV Public Library  10 - 1 pm

June 18 - Bridgeport,WV  Public Library  10:30 - 1 pm
July 25 - Artworks, Bridgeport, WV  11:30 - 2:30 pm
August 22 - Harrison County Senor Center  10:30 - 1 pm
A 'pano' picture of my home golf course,Sunny Croft Country Club, Clarksburg, WV

Our entrance with my wife's peonies welcoming visitors.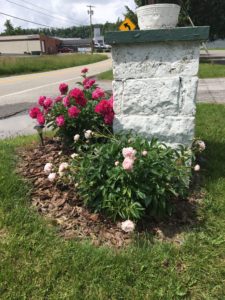 Three golf buddies who still have nerve enough to play with me. l-r: Rex Carder, Sonny Donaldson, and Sonny's son Anthony, who lives in Sacramento. Anthony came in for a short visit. Anthony's twin teenage daughters are (close to) scratch golfers.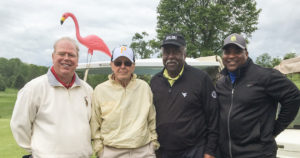 The view from # 9 & 18 T-Box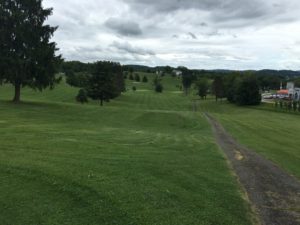 Our ball room was 'a buzz' for our Spring Elimination Dinner
The 'Grand Dame" of Sunny Croft - Jeannie Marsh. She has been a member since 1956.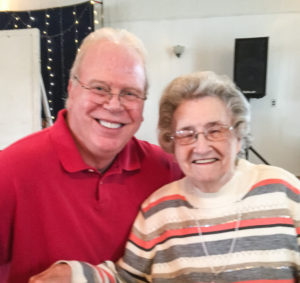 High school teammate and Member of WV's House of Delegates, Richard Iaquinta stopped by the dinner.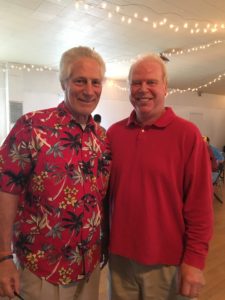 At Pint Physical therapy, I ran into WV sports legend Sheriff Tiano. Sheriff refereed games in WV for decades and turned down an opportunity to referee in the NBA. He just turned 92.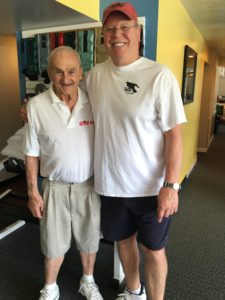 One of Sandra's 65 beautiful peonies blooming in her gardens - Doreen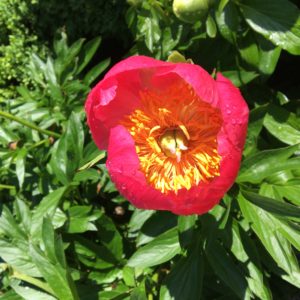 Queen Elizabeth (rose) greets us by the back steps.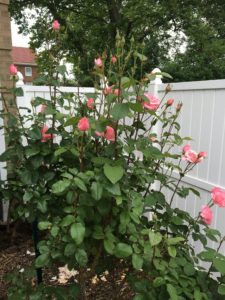 Unfortunately,  this peony season is almost over. But, we are getting ready for the next show - hydrangea season at 555 East Main Street. Sandra is the architect and caretaker of our beautiful gardens.  I work among the flowers with supervision...and I love my role.