Welcome to my January Newsletter



In keeping with tradition, the left side of this newsletter is dedicated to my writing progress and book information, the right column is personal photos and events which took place from mid-December until today. I hope you will find both interesting and share with your friends.
I am still working with my publisher on the editing phase of Volume II of Life Through These Eyes. As soon as I receive their edited version, I will spend  about a week going over their suggestions and making decisions. After I have finished, I will give it to Sandra for a final "read through." Her eye is much more careful.
At the same time, we are working on the cover design. I have offered three suggestions and I am just waiting for their graphic artists to submit  their creations. Yes, it is a very time consuming process but it is all worth it when one actually sees all their hard work in print. 
Right before Christmas, I stopped by the

Bridgeport

Public Library to show my appreciation for all they have done for me in hosting book signings over the last year. Sandra always bakes a delicious Christmas Stolen. Here, I am presenting the stolen to Librarian, Kathy Parks.  Two special people I must recognize are Library Technician Sarah Nora (black sweater) and Children's Librarian Amy Eakle. Sarah and Amy have been so helpful and accommodating when I have book signings. Thank you Sarah and Amy AND the entire staff at their library. 
I also held another very successful book signing at The Four Horsemen Comics and Gaming, located in Meadowbrook, Mall in Bridgeport, West Virginia. The owner (Mike, with beard and black shirt below), was so accommodating. He had everything ready, advertised on his Face Book page and website, and placed my posters in his front windows. I would highly recommend this store. Not only do they have the very best in comics and current games, they also offer sports paraphernalia and other interesting gifts. 

I hit a gold mine when the owner also scheduled an autograph session with Major Harris, the Hall of Fame quarterback from West Virginia. Major Harris played for WVU during the 1980s and was a1989 All-American and finished fifth and third in the Heisman Trophy voting in 1988 and 1989, respectively. He was also the ECAC Player of the Year in 1988 and 1989. It was quite an honor for me to meet him and have a couple pictures taken. I also had an opportunity to talk with his agent. Very good day and a successful book signing.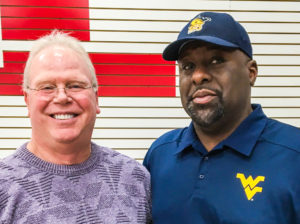 My last book signed for the day was for Mrs. Sandy, who lives in Enterprise, West Virginia. Her family and Sandra's family were very good friends and lived not too far from one another.

Currently working on a story about my old high School, Washington Irving in Clarksburg West Virginia. It was built during the turn of the century  but is now a middle school. The story will be (hopefully) very nostalgic for those who graduated, but should also appeal to everyone. Take a walk back in your own history and visit a much simpler times. At least they are simpler today. The pic to the right is the "Senior Steps" as I remember them and the other is the current entrance - all ADA compliant, which no one gave much thought in 1967, unless you were handicapped.
Spoke with Pat Joyce's Library class and a 6th grad class about "Writing what you know & Editing." Pat presented me with a WI t-shirt which I will wear with pride.  I really enjoyed high school. I also spent some time in the Principal's office (voluntarily). The principal, Susan Ferrell, was wonderful - she was courteous while listening to my ramblings about "Back then."
Change is always inevitable and WI is no different. As I toured the school, I saw many new additions and renovations but I also saw some "flashbacks" - things which changed very little. The Library, which is fantastic, is one of the most beautiful around and has changed very little. Of course, there are many technology upgrades. Pat Joyce is doing a wonderful job.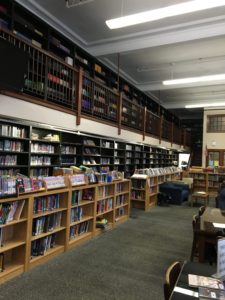 Well. my friends and followers, that is about it for December and part of January. Please come back and visit my blog "Hello World" for current updates and personal opinions and observations.
Until another wonderful day...Happy Trails,
Michael
Upcoming Events
January Events:



January 9th, I spoke to the Washington Irving Middle School Library class.
Right before Christmas, I made a trip the family graveyards to place Christmas wreaths on all the graves. Low and behold, I stumbled across this beauty. Must have passed it hundreds of time in the past and just missed it. I located the owner and will begin negotiations.If I can acquire the classic, ten I have to fins a restorer.



Not far from the classic 57 Chevy, I stopped to take pictures of this "past" beauty. Over the past 50 years I have see it deteriorate. I remember the front porch. I just sat there and could almost hear the children playing and smell the smoke from the chimney. What a shame ...to see a once-love home become this.
January 2,  I began strictly following Y - 4 - 3 - B   the lifestyle plan I developed. Gained 7 pounds over the holidays. Last year I lost 22 pounds and gave up nothing. Here I am" before."
Here I am after." Details are in my blog.

Sandra's friend of 63 years did these two pieces for her for Christmas. This hangs above our front door.

This one hangs above a kitchen door.
I had my oysters delivered from Rappahannock Oyster Company. They are in Topping, Virginia.
Meet the Team of young visionaries who run Rappahannock.

After consuming our fill of clams and oysters we made a large pot of Bouillabaisse (Fish Stew). It included, clams, mussels, lobster, shrimp, fish and many ingredients. Sandra's recipe is unmatched. 
My plate !


I bought myself a Christmas present. Baby moon hubcaps for my golf cart. Look closely into the hubcap and you can see Sandra taking the picture.
I had my golf cart painted 57 Chevy Tropical turquoise.. I am considering adding a Chevy bow tie emblem to the front. and fins over the rear fenders. I had the "No Step" rubber covers removed and the holes plugged when it was painted. My motto: "If you can't play good...Look Good." I added a plastic flamingo to the top instead of a 'signature' flag.



The way the weather is now, T-Time is months off - in North Central West Virginia. However, some of my club-mates bundle up like the Pillsbury Dough Boy and still play. Not me!




It is certainly going to be an interesting year.
Come back soon !