Buffalo Lake   "Then & Now"...Part II
The story continues...
I usually do not write follow-ups, but, because of the response to the original story published on July 19th,  added information sent, and pictures I just found, Buffalo Lake "Then & Now" deserves a Part II. If you missed Part I, you will have to go to 'Archives, July 2018.'  
Here is a brief summary of Part I:
 Buffalo Lake was a special place for you, me and thousands of other north-central West Virginia residents during the 60's and 70's. We swam, fished, had picnics, and just had good clean fun. Then, 
the city of Clarksburg West Virginia, which used the lake as an emergency water supply, sold the lake when it was (thought to be) no longer needed and because the damn was 'suspect.' Also, hundreds of geese flocked to the lake, ultimately making it dangerous to swim because of feces pollution. What I remember was a beautiful lake which served the community for decades.
When I returned to Clarksburg in 2005, I revisited one of my youthful-dreams, only to find a dilapidated, rusting, overgrown, and neglected lake. I later found out it was purchased by two local businessmen, who formed Buffalo Lake Development LLC. In the thirteen years since my return, the lake 

has

 not been developed...at least to my knowledge. Part I provided many pictures of  Buffalo "Then" and "Now." The story also makes a plea for improvement and provided several suggestions. 
In the last 24 hours, I have received more pictures and memories of Buffalo, which I would like to share. Ultimately though, any future improvement (s) are in the hands of the two principal owners. 
Here is "Part II...The story continues"
According to information provided, Buffalo Lake construction began in the early 1940's. Here is the earliest picture I have found. It was sent by Michael Sloan. The lake was carved from part of an old dairy farm. The lady, who once lived on the farm still resides in the area. These pictures came from her collection. 

(picture by Michael Sloan)
A close-up of her farm called Little Buffalo Dairy, soon to be Buffalo Lake. Although man-made, it is fed by Buffalo Creek, so I have been told. If you look closely, in the bottom right of this photo you can see the name and date.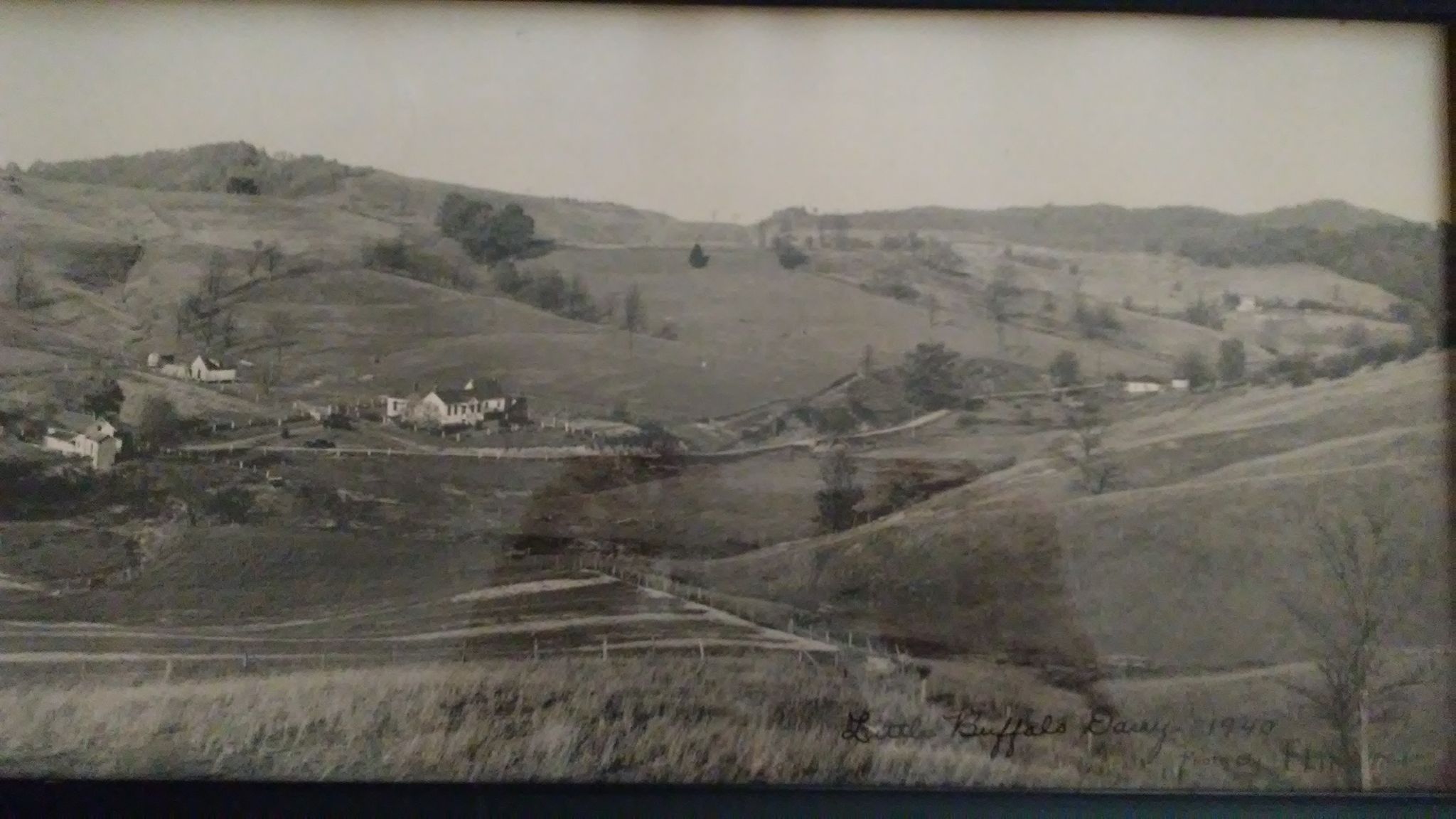 (picture by Michael Sloan)
Remember the grass beach and the bathhouse from Part I - how it looked in 1969 and how it looks today? Here are more photos of what a beautiful place it once was. The swimming area was well marked and staffed by lifeguards at all times.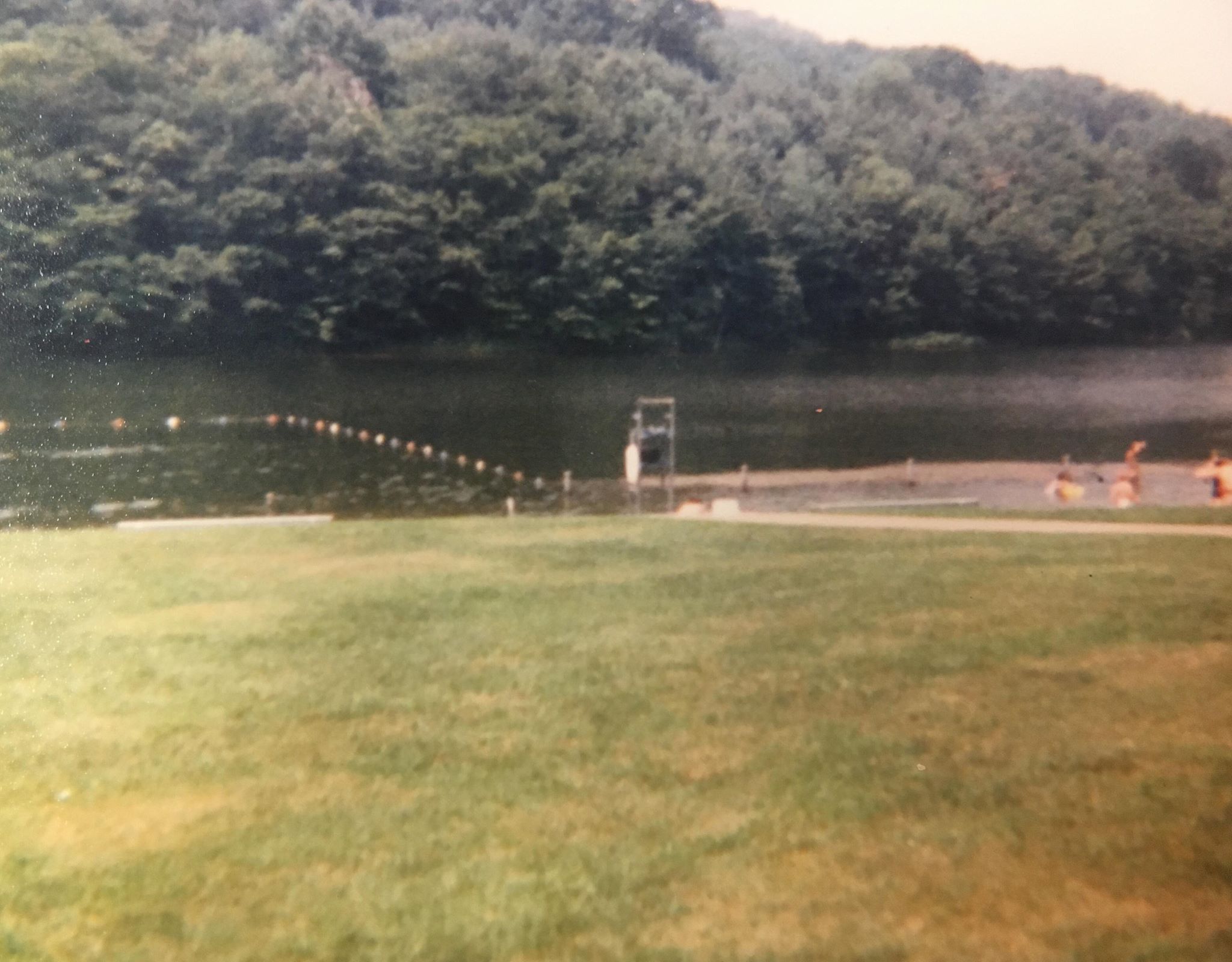 Everything was neat and convenient From the grass beach to the placement of benches and trash cans. You might recognize the young lady in the black two-piece swimsuit sitting on the walkway from Part I. She is Lynn Newhouse. I suspect, by the way she is smiling,  the picture was taken by Robin, her husband of 46 years

.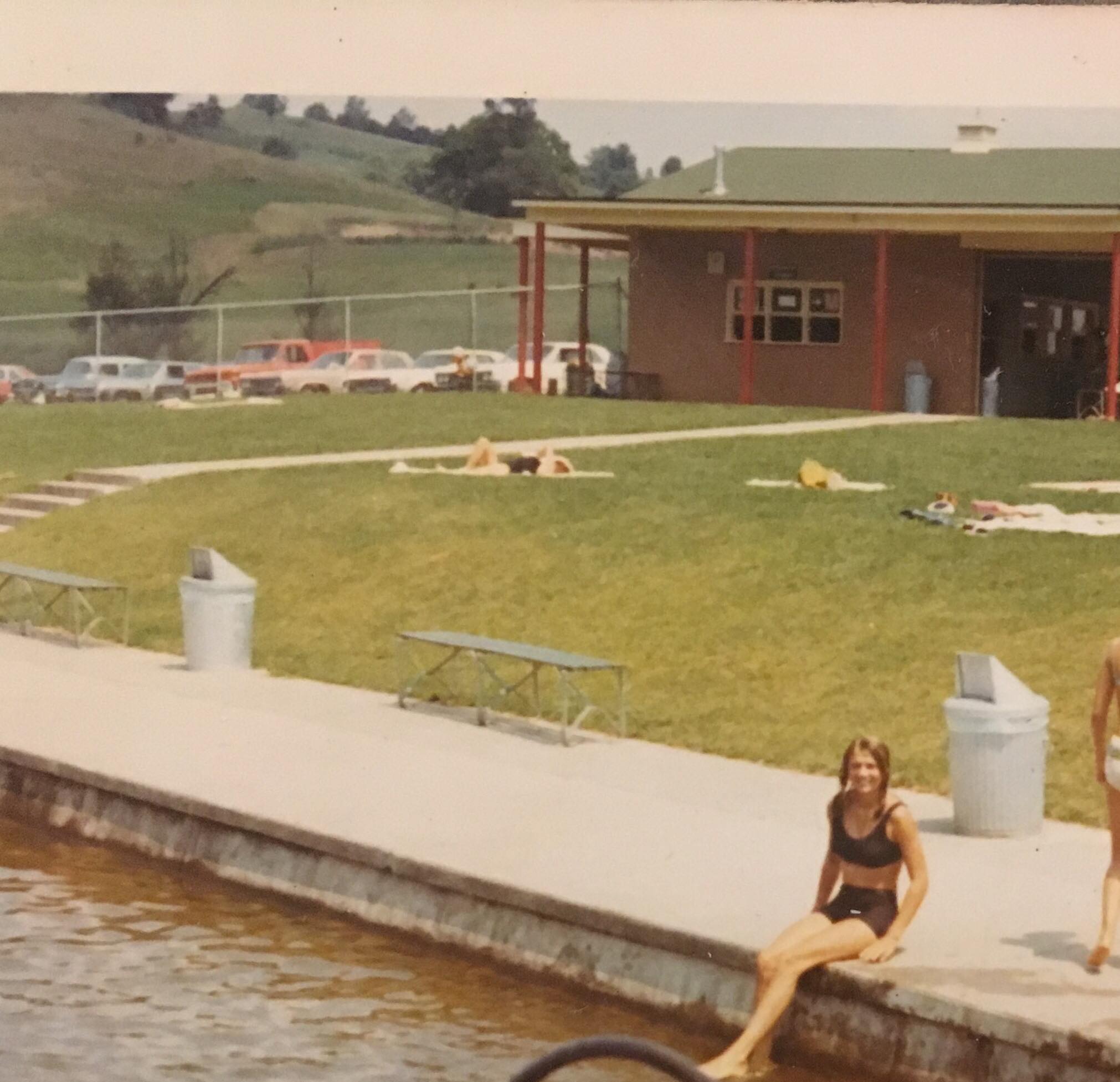 Hard to believe that just a few years of neglect can turn the area above... into the area below.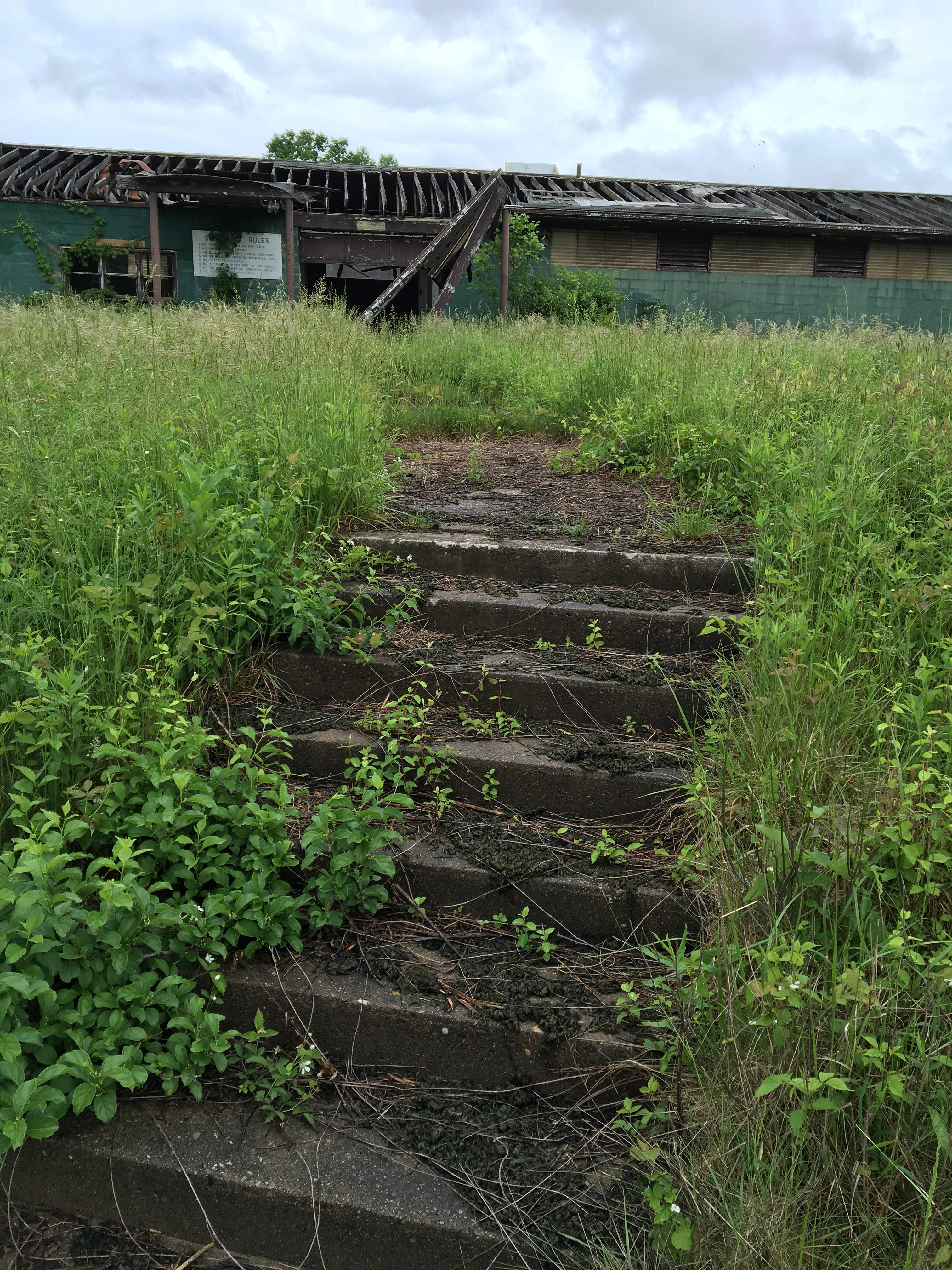 As I said earlier, when the city of Clarksburg West Virginia decided they no longer needed or wanted the property, it was sold, eventually to Buffalo Lake Development LLC.  When I first saw the dilapidated, crumbling and overgrown property in 2005, I was overcome with shock and sadness. My sadness in 2018 now borders on anger.  I still remember...
...that floating platform in the deep section of the swimming area. 
Is that Lynn again with one of her friends?  Seems like Robin, as one of the lifeguards, was paying a lot of attention to one particular swimmer! 

One vivid memory I have of the platform: One hot Summer day,  when it was full of teenagers, someone spotted a water snake swimming across the lake toward the platform! Someone yelled "SNAKE" and everyone jumped into the water and started swimming to shore. I can't imagine why we jumped into the water and what the guards must have thought. But, it seemed like the prudent thing to do then!
Look at this picture and imagine 30 teenagers all panic-jumping in the water. It could have been the inspiration for the beach scene in "Jaws."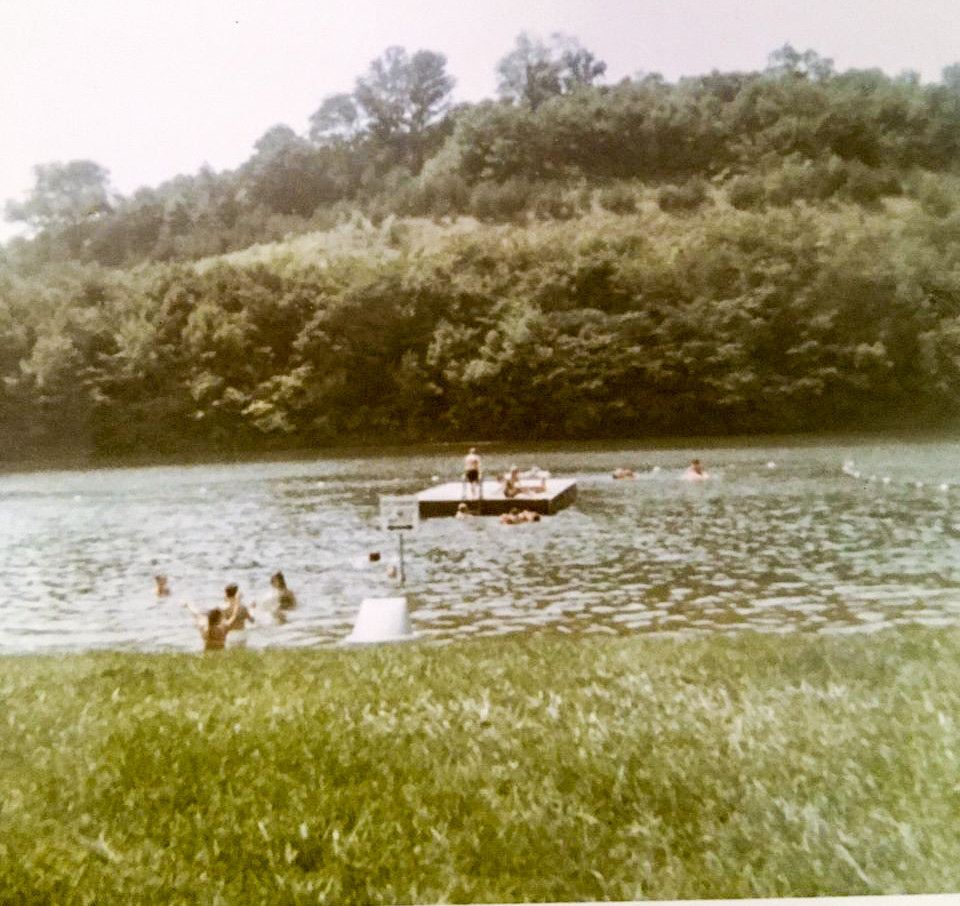 Even lifeguards have to take some time off to relax...or to torment some helpless young lady. It seems Robin is about to launch a rather large fish (I think it is a fish) in 'someone's' direction.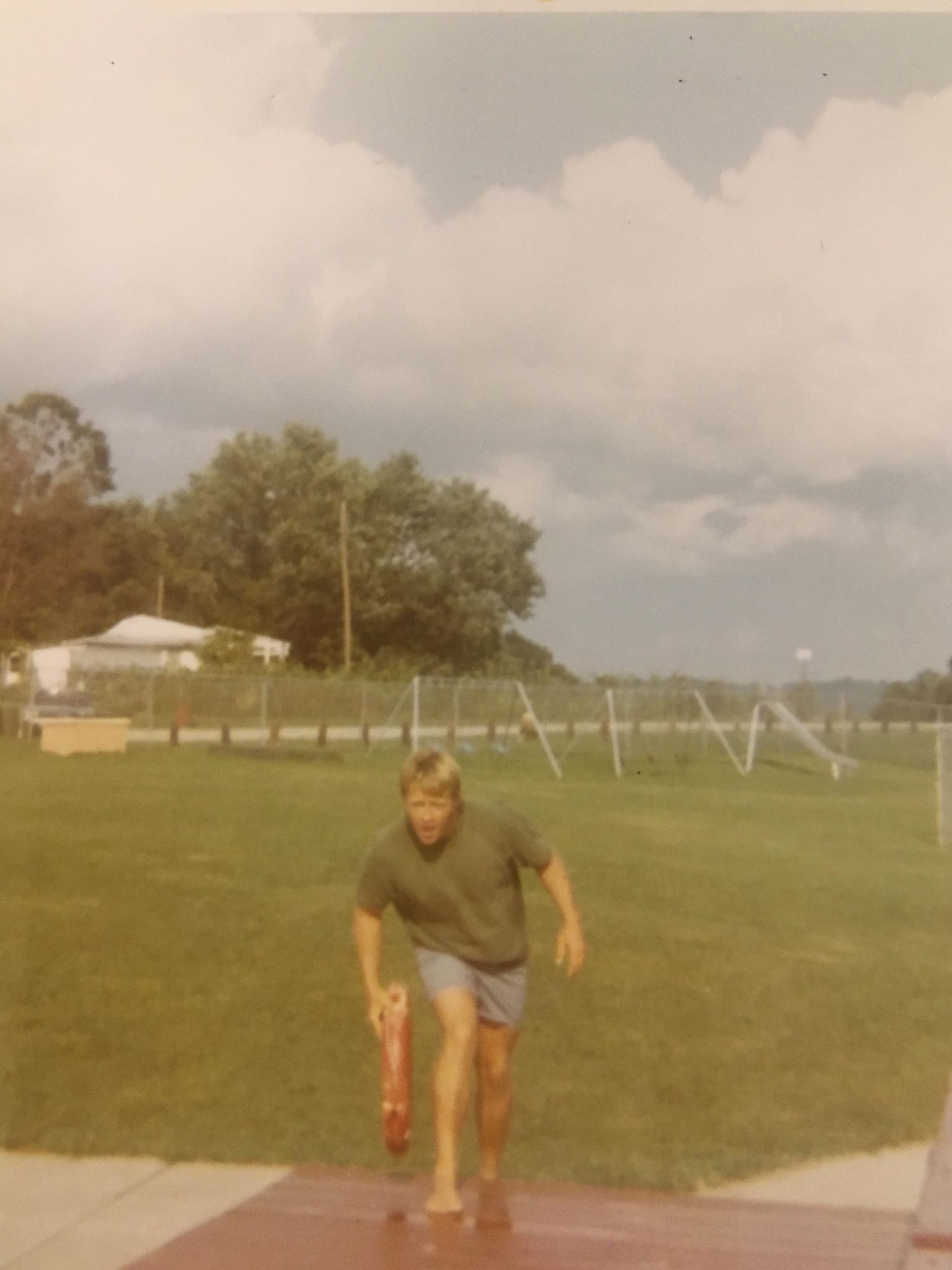 Until I looked closely at the background of this photo, I had all but forgotten the children's playground adjacent to the swimming area. 
This last photo is one of many special pictures from my main contributor Lynn Newhouse. It was taken from inside the main entrance to the bathhouse looking toward the parking lot. It is a picture of Robin's classic (today) 1969 red Camaro convertible. If you look closely, it appears someone is taking a nap under Robin's read bumper.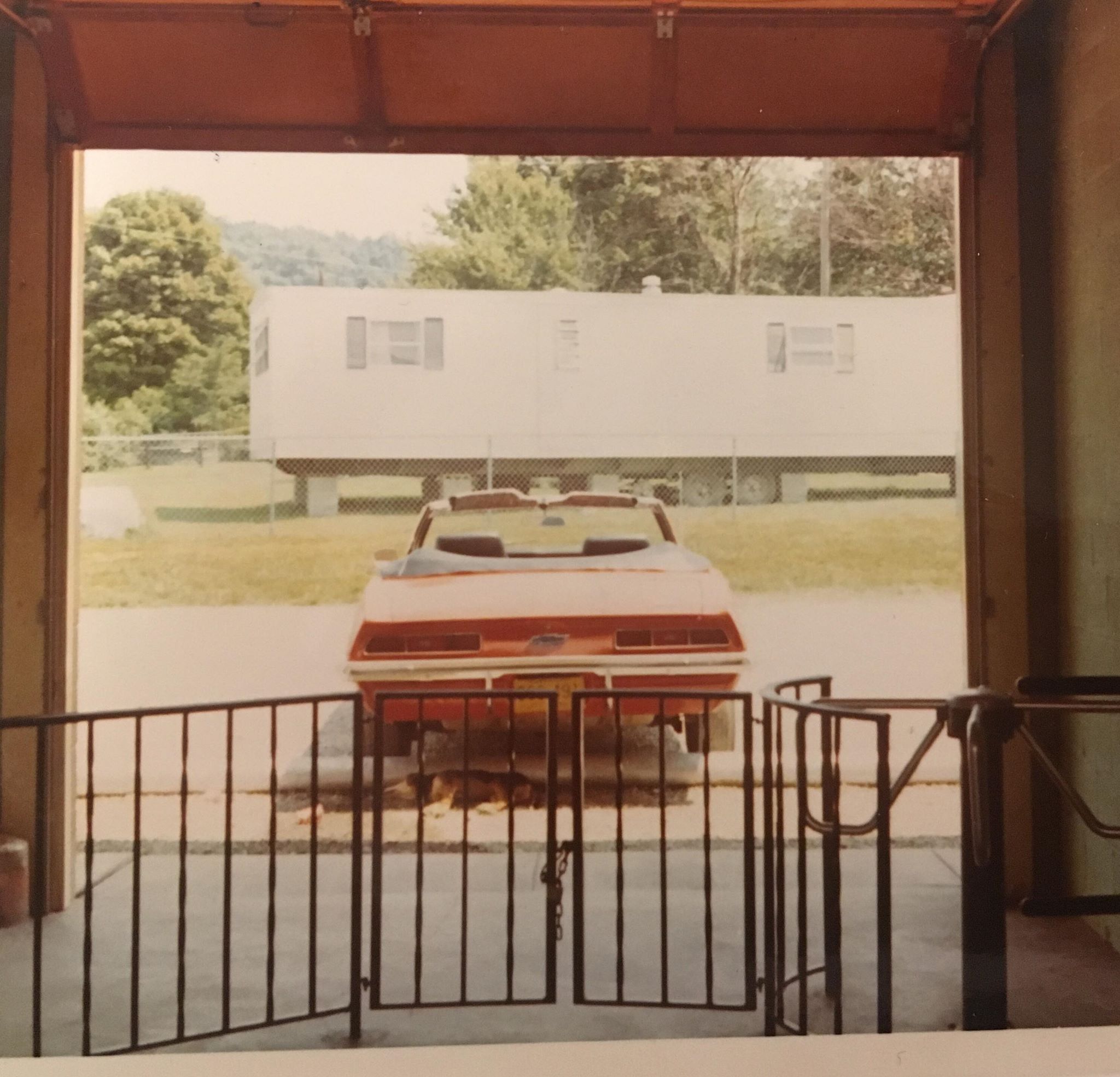 Yes, the Buffalo Lake I remember "THEN" had everything: Picnic shelter, picnic tables, swimming, children's playground, boating, and fishing..."Then"
"NOW"
It has nothing but weeds, ticks, rust, and a crumbling building!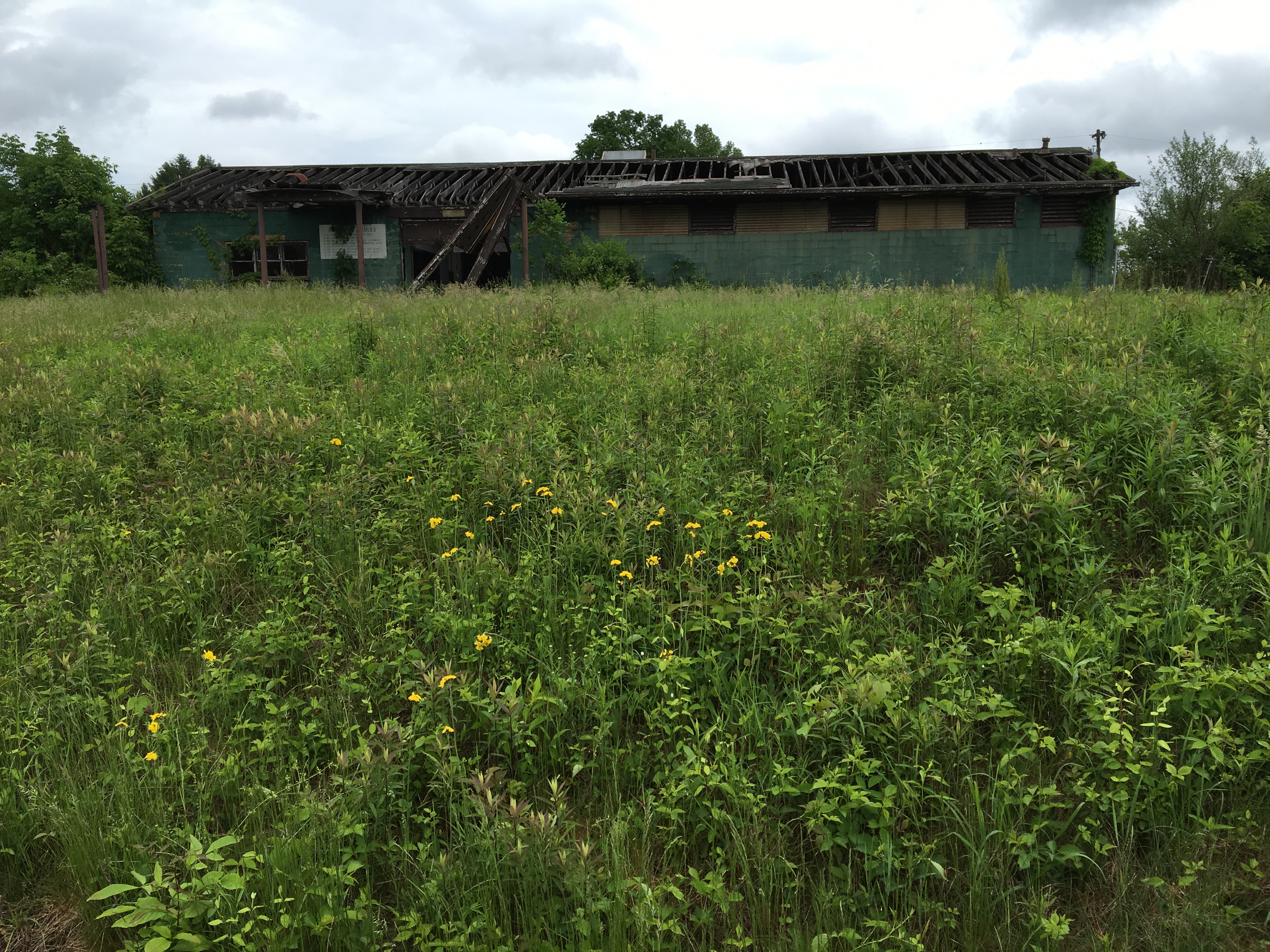 However, as I ended Part I, it does not have to continue to deteriorate. Something beautiful can rise from what you see above

.
I realize nothing stays the same. But this once beautiful lake does not deserve to stay the same...as it looks today. Somehow, I hope these two stories make their way to Buffalo Lake Development LLC and they find a desire and a way to truly 'develop' this property into something of beauty. For if not, in a few years, there will be no more memories. We will all be gone. 
I vote for a fantastic five-star restaurant. Limited fishing and boating opportunities. And a handful of beautiful homes which blend into the landscape...not take it over. There must be a way to profit and give back to the community. 
Special thanks to Michael Sloan for tracking down the old 1940 photos and negotiating with the lady who owns them and still lives near the lake. And to Lynn Newhouse who shared some very personal memories and photos of her own Buffalo Lake. Robin would be proud. All the above photos, unless otherwise identified, are from Lynn.
I hope you have enjoyed our journey together and I hope something positive evolves from the efforts and memories of so many.
Until next time,
This is

Michael

saying, ", Who knows what the future will bring."