Welcome to my July Newsletter
If anyone finds out what happened to July, please give me a call. I remember July 1st because it was our 45th Anniversary and the rest of the month was a blur with all of the book signings and activities at my home golf Course, Sunny Croft Country Club.
Sandra and I were married in the First Presbyterian Church in Clarksburg, West Virginia. We honeymooned in Virginia Beach, Virginia and quickly made Virginia Beach our home for the next 32 years. Here we are seconds after the "I do's."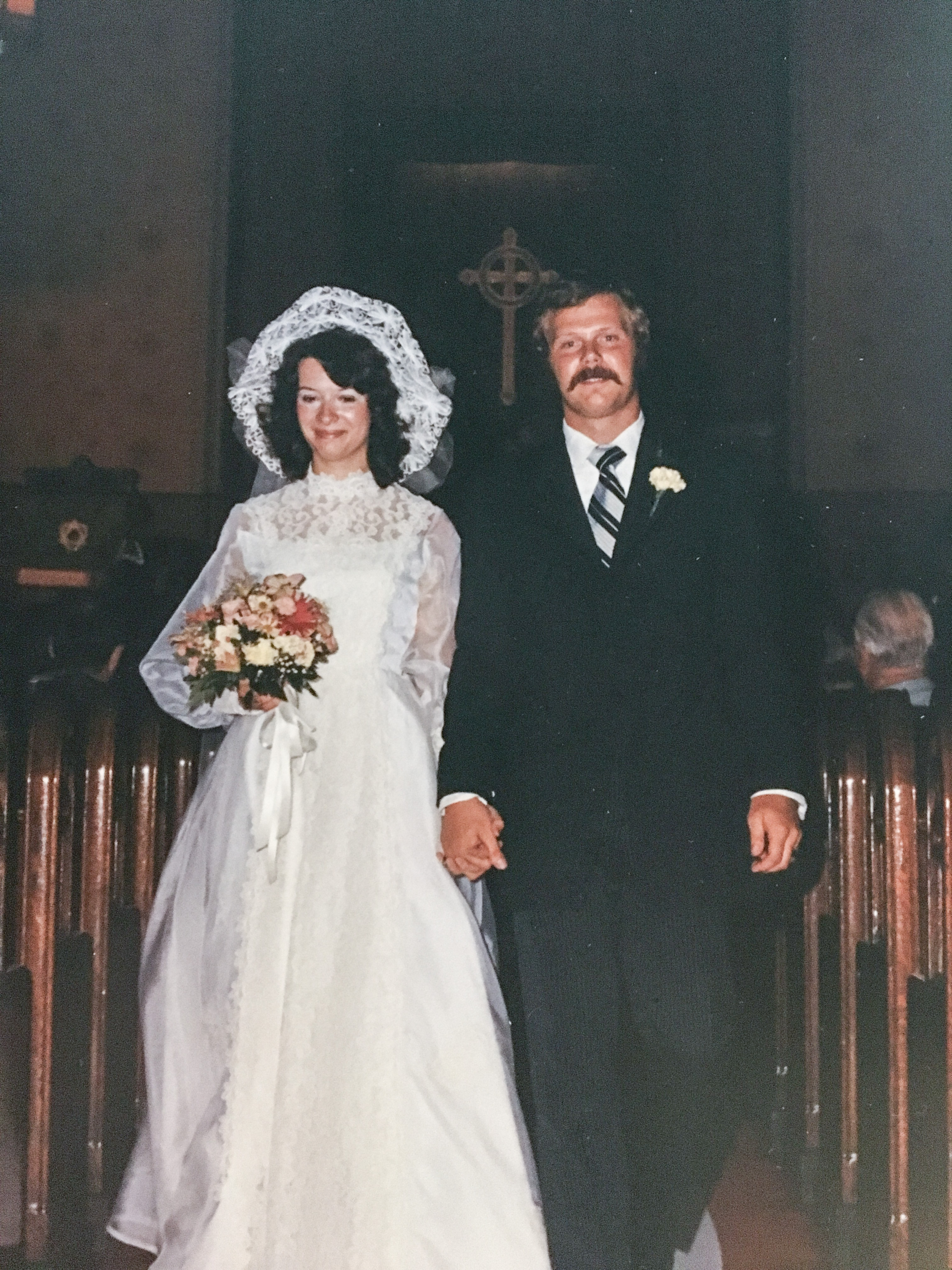 Such a beautiful bride.

Forty five years
later, she is like a grand French wine - only gets better with age.
My mid-July book signing was held at the Bridgeport, West Virginia Public Library. I have held several events at this library and the staff is simply great. Librarians Sarah Nora (L) and Amy Eakle make me feel special. I do not remember my middle school and high school librarians looking like these two. Here we are with Big Bear and Little Bear in the Children's Library section.

Toward the end of July, my book signing was held at Artworks in Bridgeport, West Virginia. This is such a wonderful location. You can literally spend the whole day and evening here. On one end of the building is Provence Market, owned and operated by Chef Ann Hart. Provence is, in my opinion, one of the top three restaurants in our area. You can have lunch, go next door and have a fine coffee, move to the next business and purchase a fine wine,  and eventually make your way to Artworks - a fine art gallery, frame shop, and provider of unique gifts. Do not forget to visit the knit shop next door. Then, after relaxing on the porch, return to Provence for a wonderful evening meal. All of this is within 75 yards.

I was fortunate to have great weather for the book signing. I set up on the porch right at the entrance to Artworks. High school friends Tom and Donna Elsey stopped by on their way to lunch and purchased a book. This is Tom and me on the porch.

I am very proud that Artworks agreed to carry both volumes of my book. They are the exclusive carrier of volume I and II in North Central West Virginia. Unlike Volume I, volume II is available in paperback and hardback. Because I live close to Artworks, I have agreed to sign and personalize any books they sell. If you purchase a book and want it personalized, just leave it, with instructions and pick it up the next day. 
Artworks is located at 601 South Virginia Avenue, Bridgeport, WV. When you enter, continue walking straight ahead and look opposite this arrow. Also, do not forget to visit Lotus MacDowell's gallery featuring her works, just inside (to the right) of the entrance.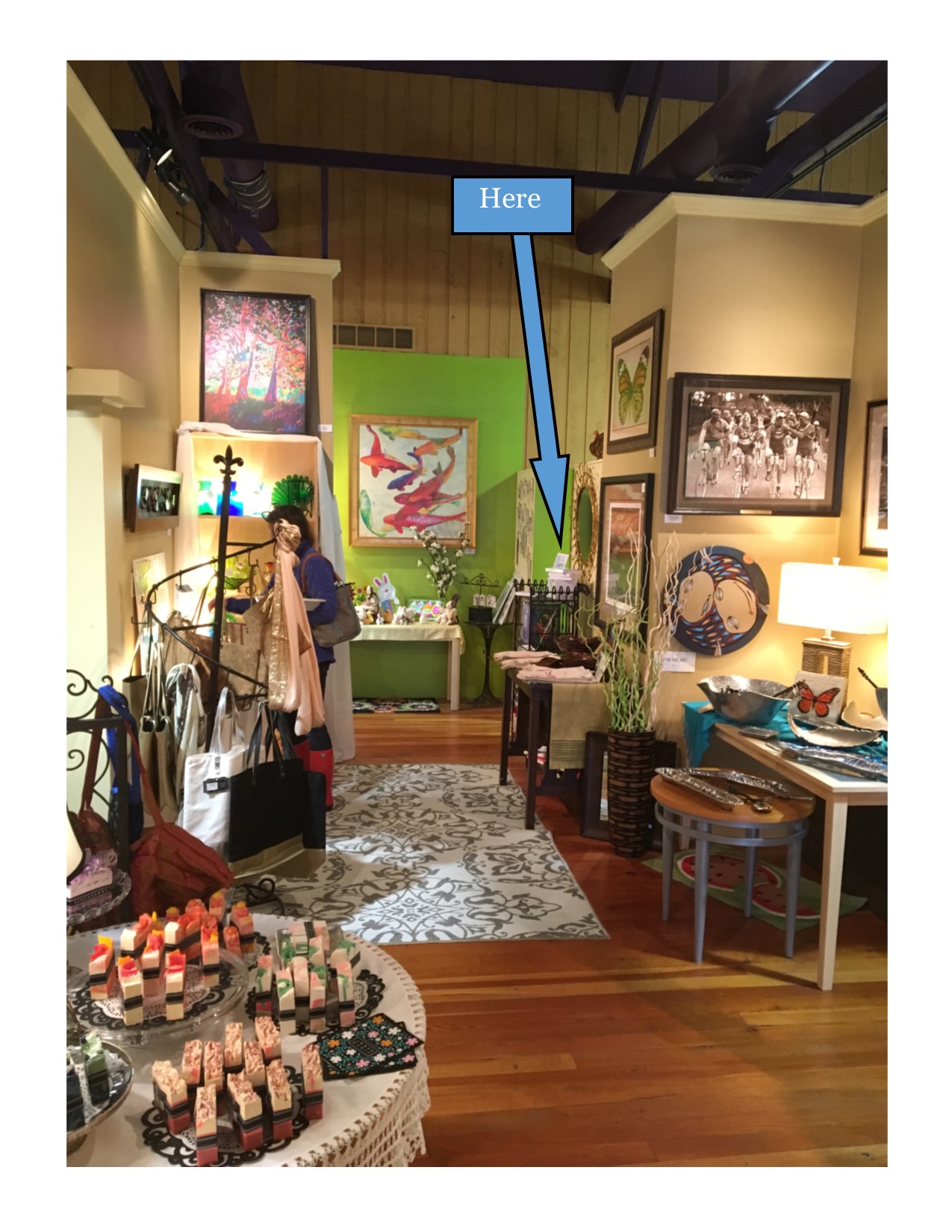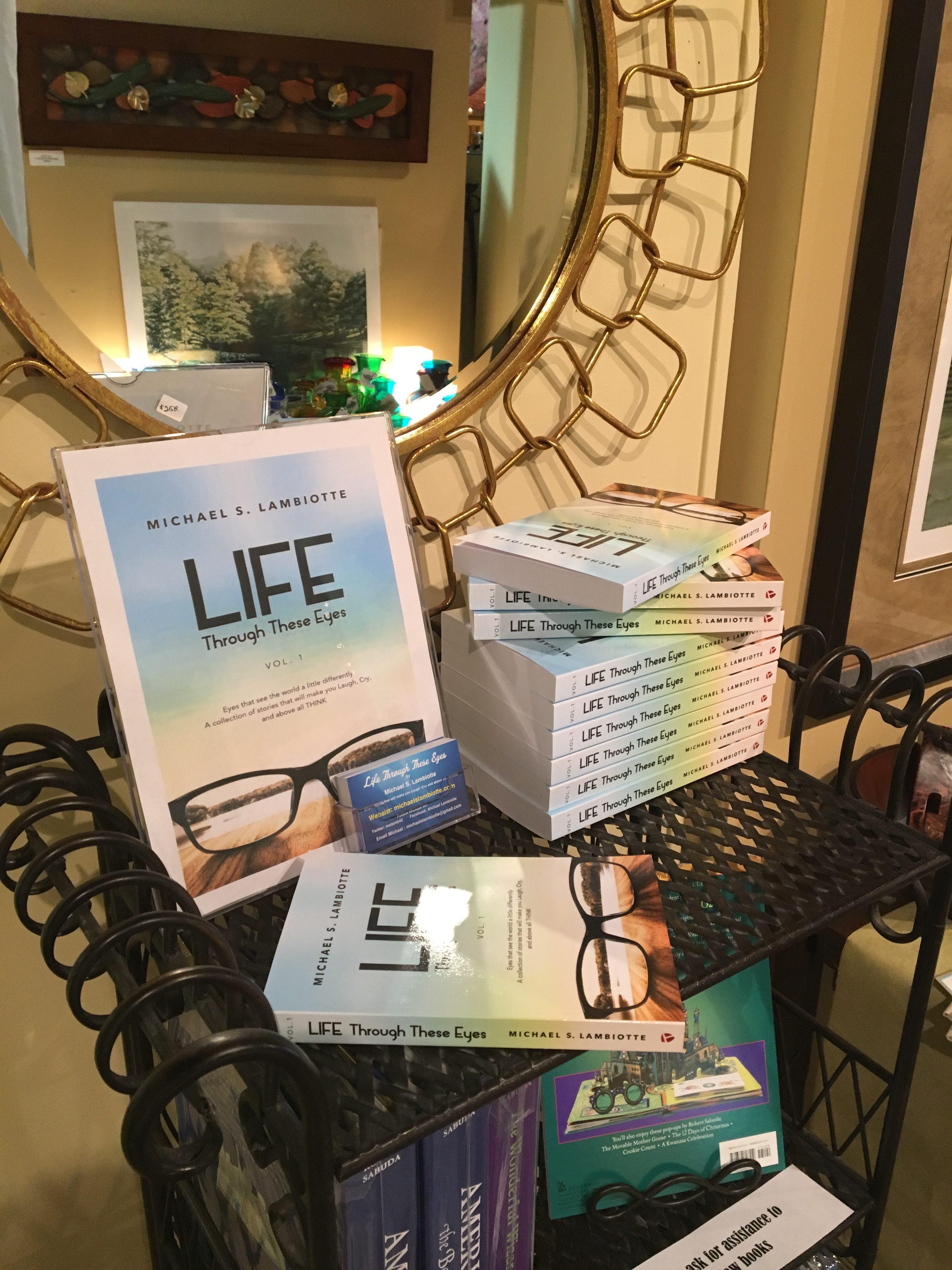 Among the visitors, I saw another high school friend, Ellen Condron (l) who purchased a book and I made several new friends, one of which was Ally Swensson (r), who is the Director of Sales for Springhill Suites, Marriott. She purchased a book for her boss.


My next, and final book signing until late Fall,  will be in late August at the Harrison County Senior Center in Clarksburg, West Virginia. The date is August 22 from 10:30 to 1:00 pm.
For those who like the convenience of Kindle, Volume II is available as an eBook. It can be purchased through Amazon, Barnes and Noble, or AuthorHouse. If you are interested in Volume I, available only in paperback, it must be purchased from me directly at michaelslambiotte.com or from Artworks, if you are in the Harrison County, West Virginia area.
And finally, I published the entire transcript, on my website, of my presentation to the Clarksburg City Council asking for three Charter changes: A return to a ward system for electing council persons, term limits, and direct election of the mayor. The full length presentation, with commentary, is in my blog post or possibly in archives by this time - "Progress and Change."  I am sure there will be much opposition to these changes, but one must consider who are the opponents and ask your self, "What are their motives?"  - that is paramount.There is something very wrong with a system where six councilpersons live in one neighborhood, one in a third, and the other 11 neighborhoods have no direct representation.

My presentation was not a 'one and done.' I will keep up the fight for diverse representation, term limits, and direct election of the mayor. 
Well friends and followers, that's the way I see it for another month.
Keep your ships headed into the wind,
Michael
Upcoming Events
August Events
Book Signings ; Vol II just released. Volume I also available
August 22 - Harrison County Senior Center  10:30 - 1 pm. Clarksburg, WV 500 W. Main Street   304-623-6795


First day partners were Bob Creamer (l) , Rick Barnhart, and Matt Kimball

Ready to tee-off on #2

At the Dylan Jeffries Scholarship Tournament. L-R: Pete Dye Golf Club Assistant Pro, Mike DiPetta; Pete Dye Account Manager, Don Lighter; Sunny Croft Treasurer, Bobby Gaston, winner of the Pete Dye 4'Some Auction; Me; George Hayhurst, President of Sunny Croft; Eric Giaquinta, Sunny Croft Tournament Director. ~The Auction raised $500 for the Scholarship Foundation.
Local business leader, Mark Pinti of Pinti Physical Therapy is pictured with 'Conky' Frank Giaquinta, former Pro at Sunny Croft, right before the Jeffries Tournament.