My Christmas Pilgrimage to Crabapple
Spending time with mom and my grandparents
Crabapple Pennsylvania. So small and so secluded, most of you have never heard of it. let alone had a reason to visit.

My mother's family settled this part of Greene County in the late 1700's. Their small two room board and batten home eventually grew up and out and would eventually sit on 73 acres. The only remaining buildings still in use in Crabapple today are the school and church.
When asked where Crabapple is located, I always begin large and go down. Of course, this is only successful for people familiar with Northern West Virginia and South-West Pennsylvania: "Do you know where Waynesburg is?" If I get a yes, next I ask, "Do you know where Jacktown is?" If I get a 'no,' I say, "Some people call it Windridge." If I get a 'oh yea', I then say, "Just drop down the hill toward the hanging rocks."
I get many locals who know where Waynesburg is but few if any proceed further down the map. The farm is almost adjacent to the hanging rocks, a place holding many memories for the few locals who are still alive.
As a child through adulthood, I picnicked, waded in the stream, seined minnows, hunted, fished and roamed all over the farm with my relatives. Now, I just visit them, and we spend time talking about the way things were. They are all buried there, except for my father. He is buried in a cemetery in Quiet Dell West Virginia with his brother and my other grandparents and great grandparents.
'My Christmas Pilgrimage to Crabapple" is always full of laughter, tears and joyous remembrances.
It is approximately 70 miles from my home. When I see these magnificent pines at the bottom on the hill from where my grandparents lived in Garrison, Pennsylvania, I know I am getting close.

As a teenager, we hunted this area. My grandfather and I walked between the pines, and looked over their tops. The years go by way too fast.
On the Aleppo road outside of Garrison, I always stop at the top of the hill where the Centennial Church still stands and serves its congregation. This is a panoramic photo from the top of the hill.

This is a photo overlooking a beautiful Centennial mountain top flat, which is still farmed.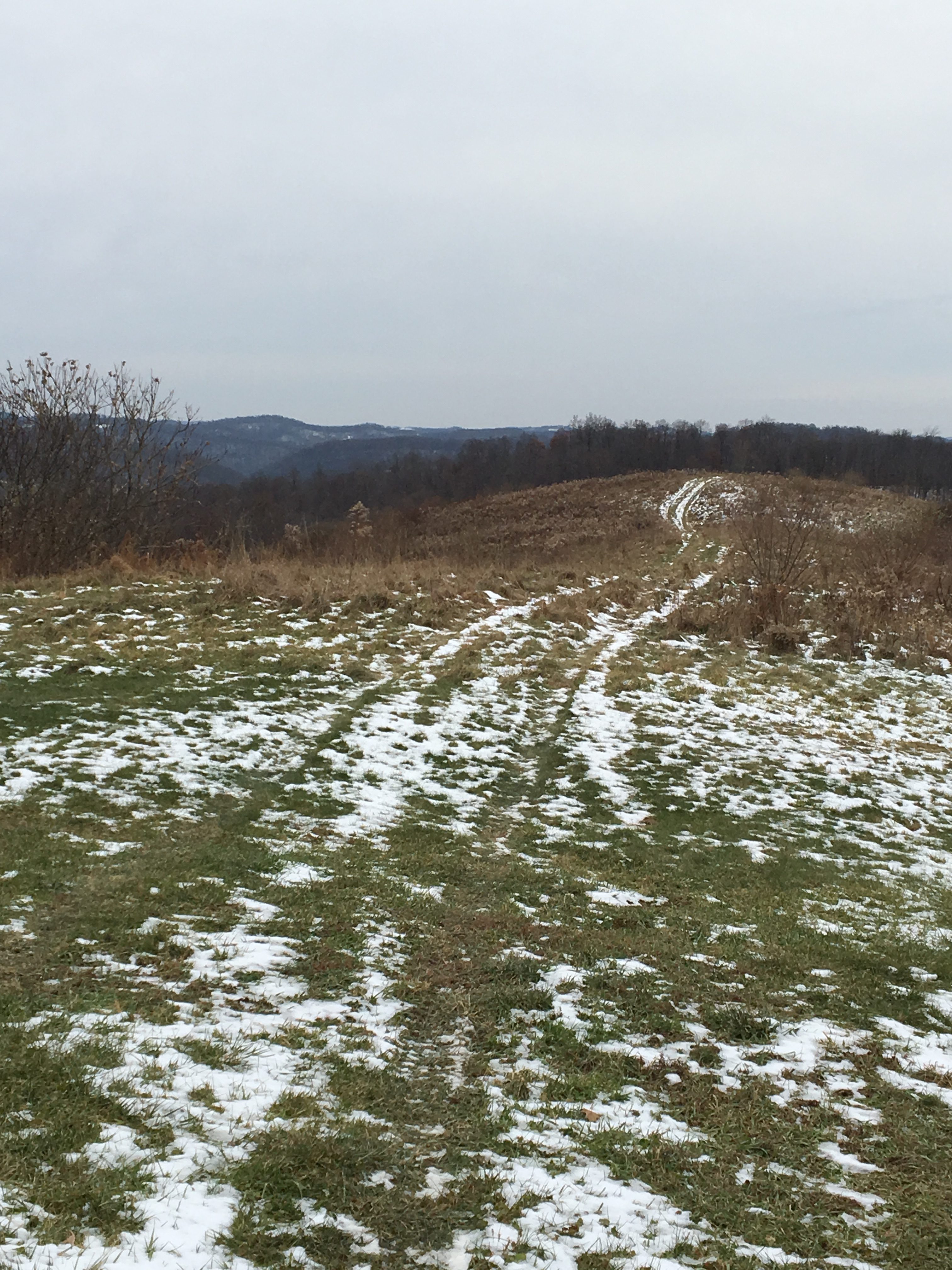 When I see the hanging rocks, I know I am almost there. What a beautiful scene. Mom said my grandfather would break off the icicles and use them for homemade ice cream in the Winter. In the Summer, the rocks provided mystery, exploring, and hours of digging for treasure.

All the out buildings, barns, and homes are gone now. Behind these glorious hemlocks, my uncle Jess Gray lived until his death. We used to sit on his porch, looking over the tops of the 'small' hemlocks he planted. In the far right bottom corner is where he had his prized lilac. Sandra and I planted a small piece at our home in Clarksburg and it rewards us every Spring with beautiful fragrant blooms. I have another planting from this lilac, the story to be shared later.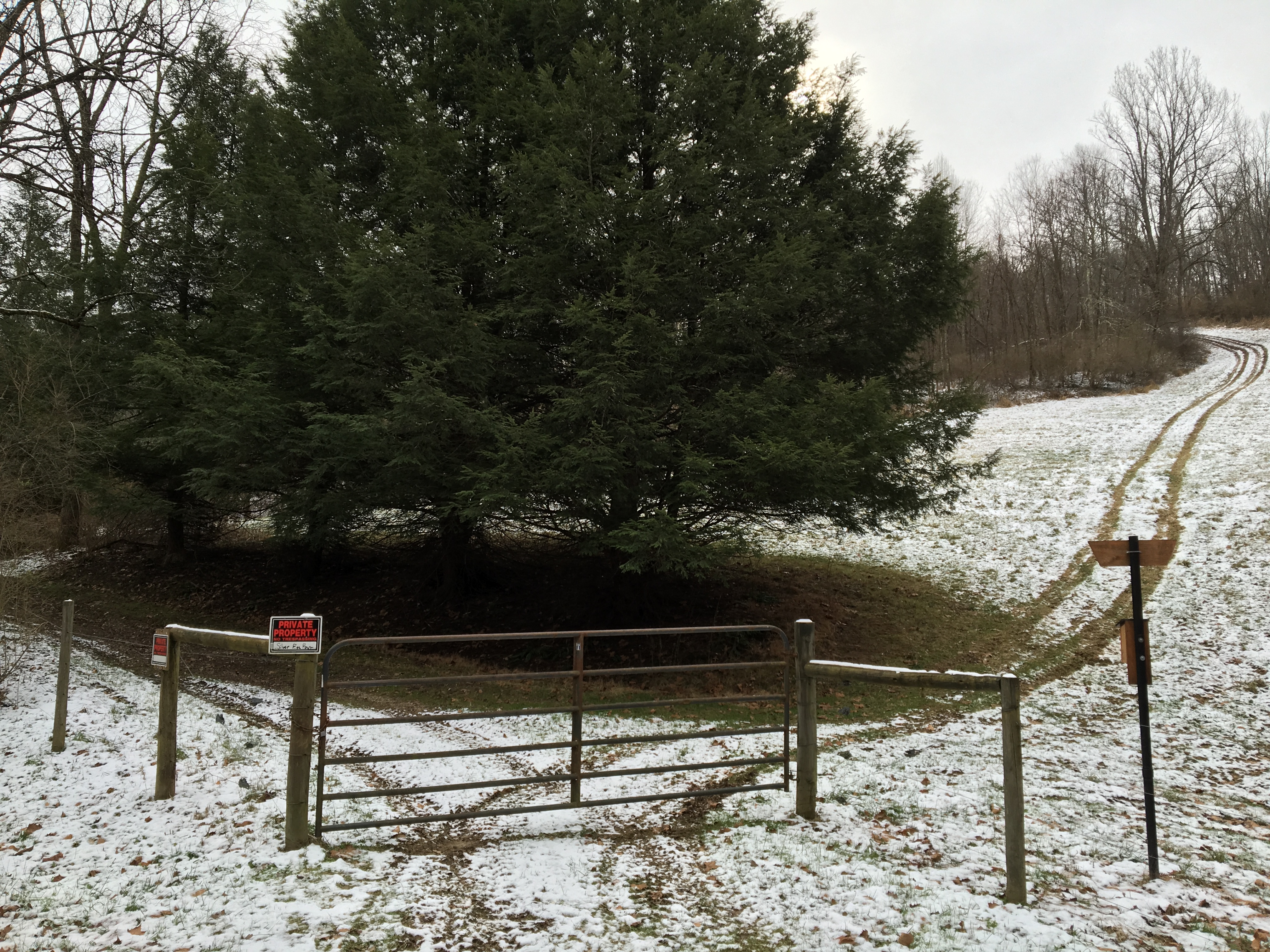 On the far side of the farm, just outside its fence line is the family graveyard, which is connected to the Lazear Cemetery. Some of the markers are dated as early as 1723.
Every Christmas I make my pilgrimage to the family graves to pay respects to those who came before me on this land. I lay a wreath on each grave and we talk, and I have lunch. Toward the end of my time there, I read a few of their favorite Bible passages.


(Remember earlier I said there is another lilac story. If you look at the top of this picture you will see a piece of orange surveyors tape tied to a plant stake. This marks another Jess Gray lilac I planted a two years ago. Unfortunately the deer keep it trimmed down. The tape is to keep the caretaker from mowing it all the way down. I am hoping the deer become bored and move to other tasty morsels in the Spring).
After the Bible passages, I was silent in word and thought for a few minutes. I wanted to simply enjoy the beauty of quiet. And then, it was time to leave. As I walked through the snow to my truck, I turned and said one final "Merry Christmas." At that very moment, I remembered something I recently wrote:
"Memories
I will shed tears of joy,
not for what I have lost,
but for what I can remember."
 "My Christmas Pilgrimage to Crabapple" is truly an enjoyable trip. At almost every corner, at the top of every hill, and through every small town there are memories.
I would truly enjoy hearing about your pilgrimages and special memories.

Until next time,
Mike