Buffalo Lake
What it meant to me "Then"
&
What my eyes see "Now"
Welcome to another segment of my continuing series "Then & Now," which features places which helped mold me into the person I am today – whatever that means.
Today, we will go to the Buffalo Lake I remember as a child and as a young adult. I am sure many of you have similar places, whether it be a favorite swimming pool, an old rope tied to a tree limb over your favorite swimming hole, or a mountain stream. Mine just happens to be a very special lake – Buffalo Lake.
We simply called it 'Buffalo.' It is located a few miles south of my hometown of Clarksburg West Virginia. As a child, dad often took me there fishing. It was from the banks of Buffalo where I caught my first real bragging-rights fish, a 14" large-mouth bass – I was 12.
I fondly remember family picnics around the lake. There was a shelter and several picnic tables.  Dad and I would fish while mom fixed lunch. They even had boats you could rent and what we called 'paddle paddles.' The parking lot in front of the bathhouse was always packed on weekends. Put all your clothes into a small wire basket, pin the number to your swim trunks, hand over the basket to the office, and off to the grass beach we went. Do your best to visualize what a wonderful place this was...for old and young alike.
And now, it is time to join me on a journey to this special place. As you read about and view the pictures, stop for a few minutes and think about your special youthful place.
This is Buffalo Lake way before my time.
Notice the difference in the trees in this photo and some of the following.

(Picture provided by Richard Duez)
An aerial view of Buffalo in her youth. Lakes were young once also.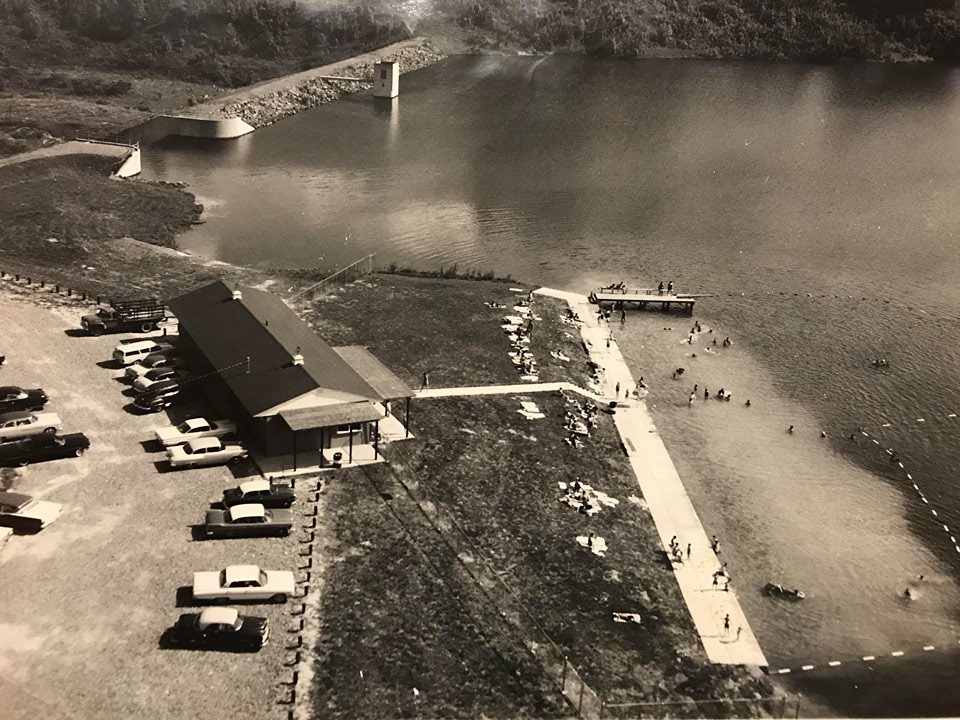 (picture provided by Tisha Elko Lang)
This is the Buffalo Lake I remember…"Then."
The year was 1967. The year I graduated from high school.
This was the grass beach in front of the bathhouse. There was a concrete walk with steps, a slide, and diving board where only the brave dare venture.


(picture provided by JudyStalensky-Reider - 1967)
Steps were strategically placed around the concrete walkway. A popular place for young lovers. Notice the walk and grass area in the background.


(picture provided by Lynn Newhouse - 1969)
This is another picture of Lynn and her soon-to-be husband, Robin. They were married 46 years. Robin was a lifeguard at the lake.  

(picture provided by Lynn Newhouse - 1969)
If you wanted to get away from the crowds on the grass beach, you could always rent a boat and take a quiet row around the lake. Tisha Elko Lang provided this picture of her mother and grandmother in 1966. Looking closely, over Tisha's mother's right shoulder, the man sitting on the bank fishing is in the exact spot where I caught my largemouth bass when I was 12.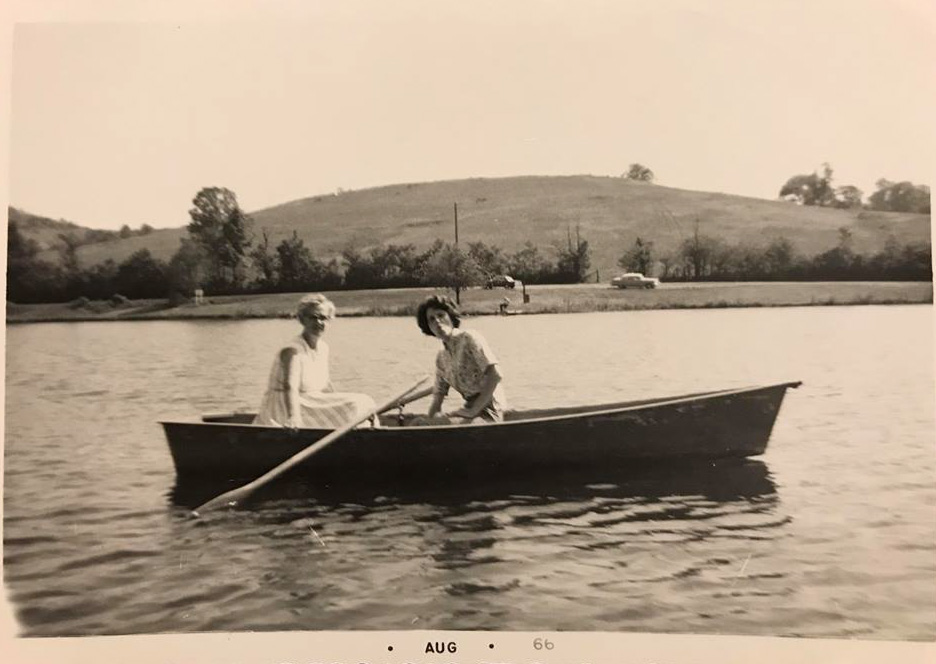 (picture provided by Tisha Elko Lang)
Buffalo Lake...A favorite place for families, teenagers, and children of all ages.
I left Clarksburg in 1972 and did not return to Buffalo Lake until the Spring of 2005. In my three-decade absence, there were many changes according to my father. Even though his swimming days were over, he continued to fish the banks close the dam, hoping to catch a large channel catfish.
As I was told and learned during my years in absence, the lake was an emergency water supply for my city. Over the years the city decided it did not need this source anymore. Also, there were questions regarding the integrity of the dam and ensuing liability issues if it were to collapse. Houses still exist below the dam today. 
Complicating the matter even more, like many of the public and private lakes around the northern part of the state, they became homes for thousands of Canadian geese who decided to call West Virginia their home. Unfortunately, due to the large goose population at Buffalo, the water became fouled (fowled) with so much goose feces that in 1998 the lake was closed for swimming.
Shortly thereafter, the lake was sold. I am not sure who originally purchased the lake, but it is currently owned by a prominent Clarksburg businessman/restaurateur and an equally prominent attorney. In addition to the lake, they have reportedly purchased hundreds of acres surrounding the lake. Their company is called Buffalo Lake Development LLC. At that time, the lake was closed for boating, swimming, and fishing. Reportedly, some timber has been removed and there are rumors of mining activities, but I can not substantiate either.

When Sandra and I returned to Clarksburg in 2005, I finally had the time to visit some of my childhood memories and see what they look like today. As I approached the top of the hill by the parking lot entrance, this is what…
My eyes saw "Now."

Instead of a well-maintained parking lot and bathhouse, all I saw was 'overgrown', dilapidated, and a lot littered with plastic and pipe.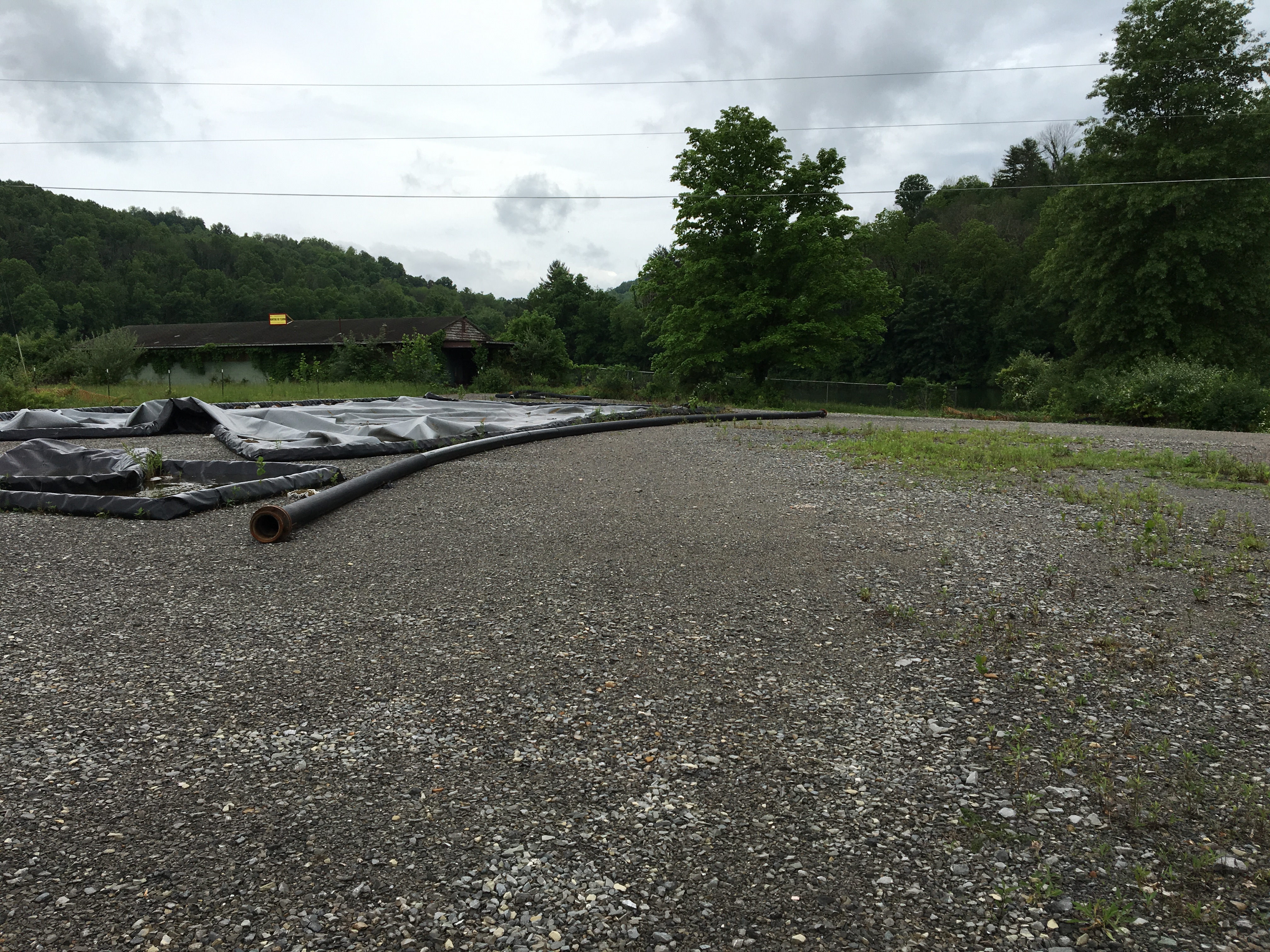 The bathhouse was crumbling. The weeds on the grass beach were thigh-high.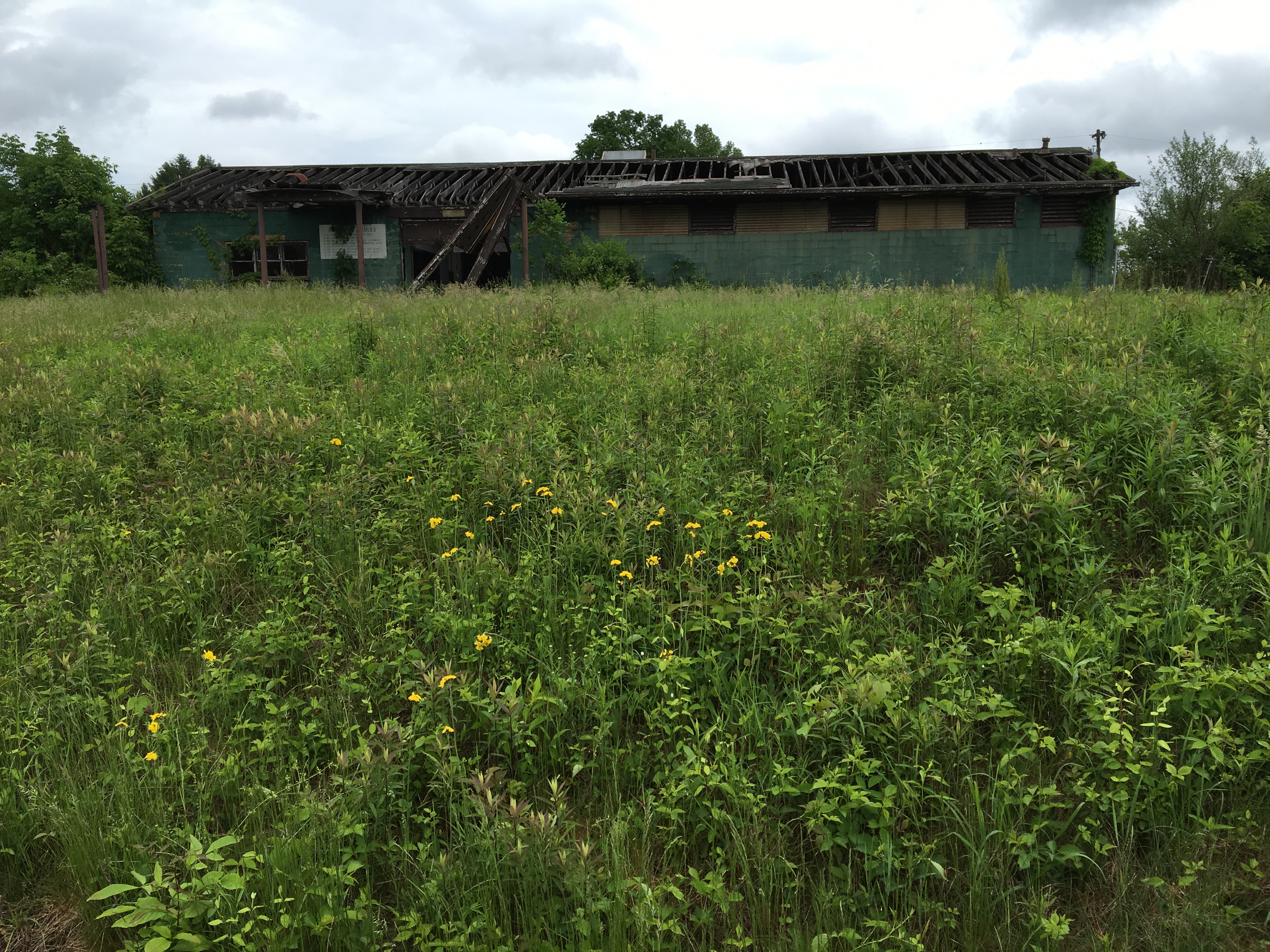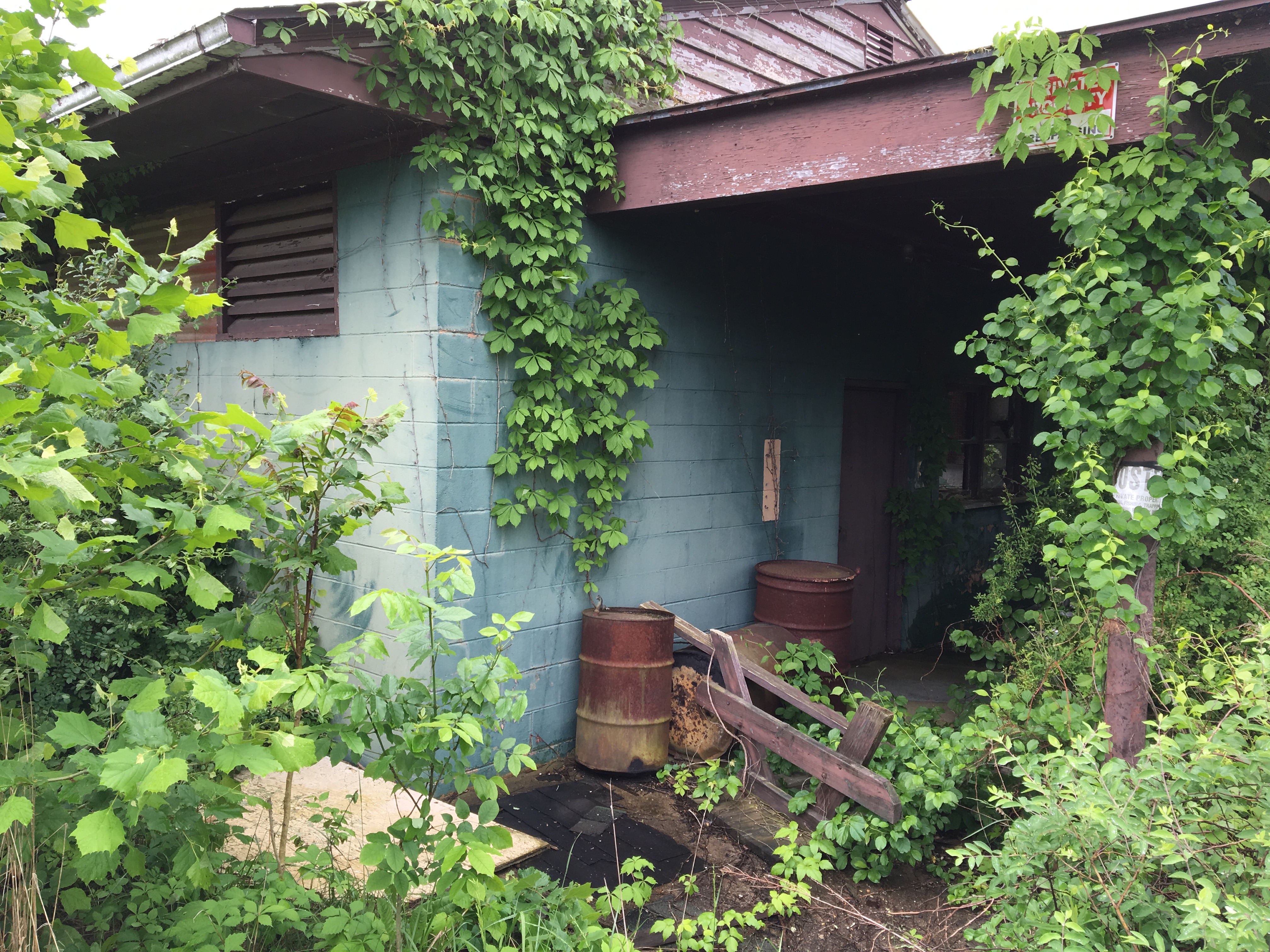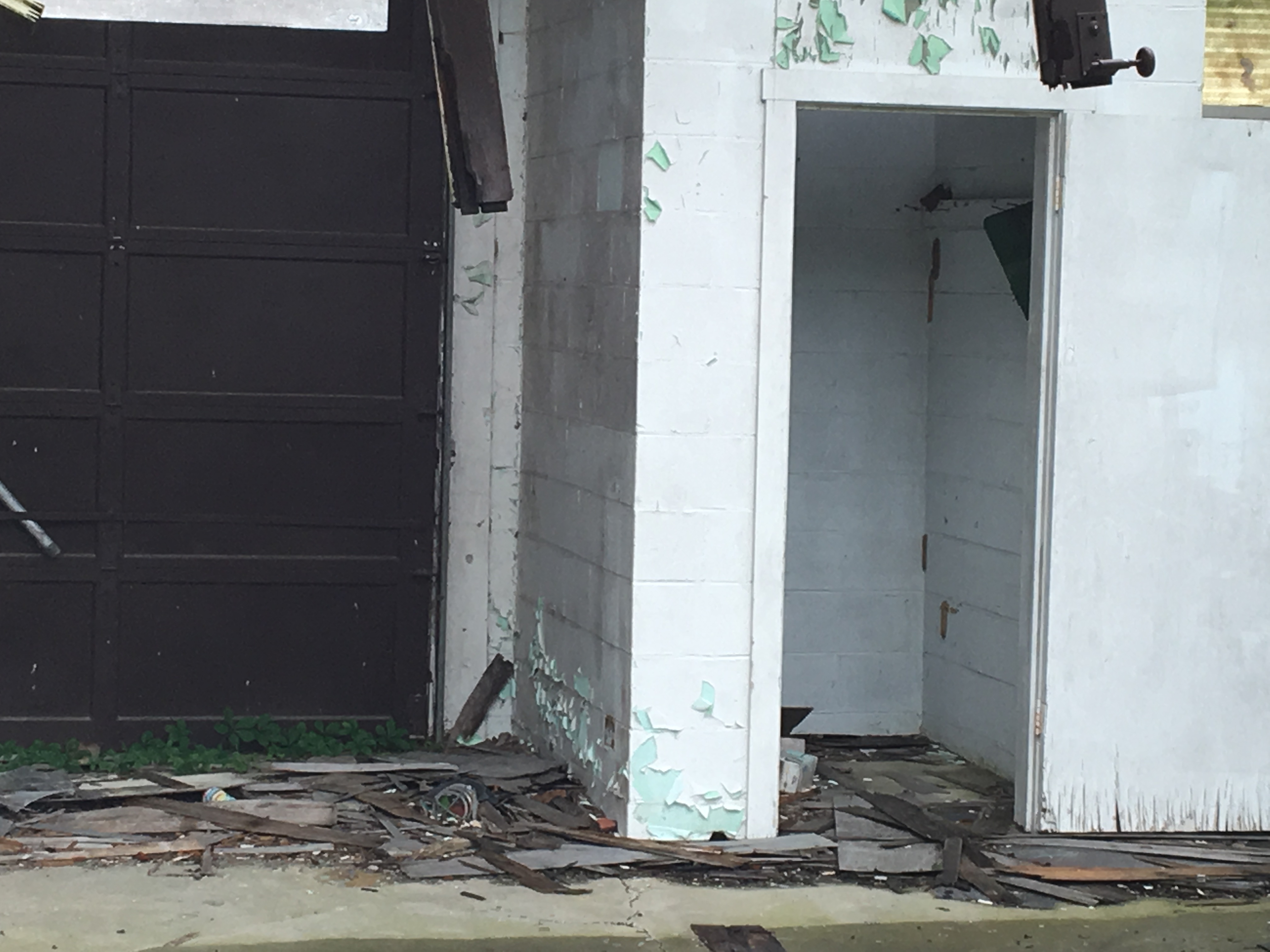 The steps from the bathhouse to the concrete walk were almost impassable.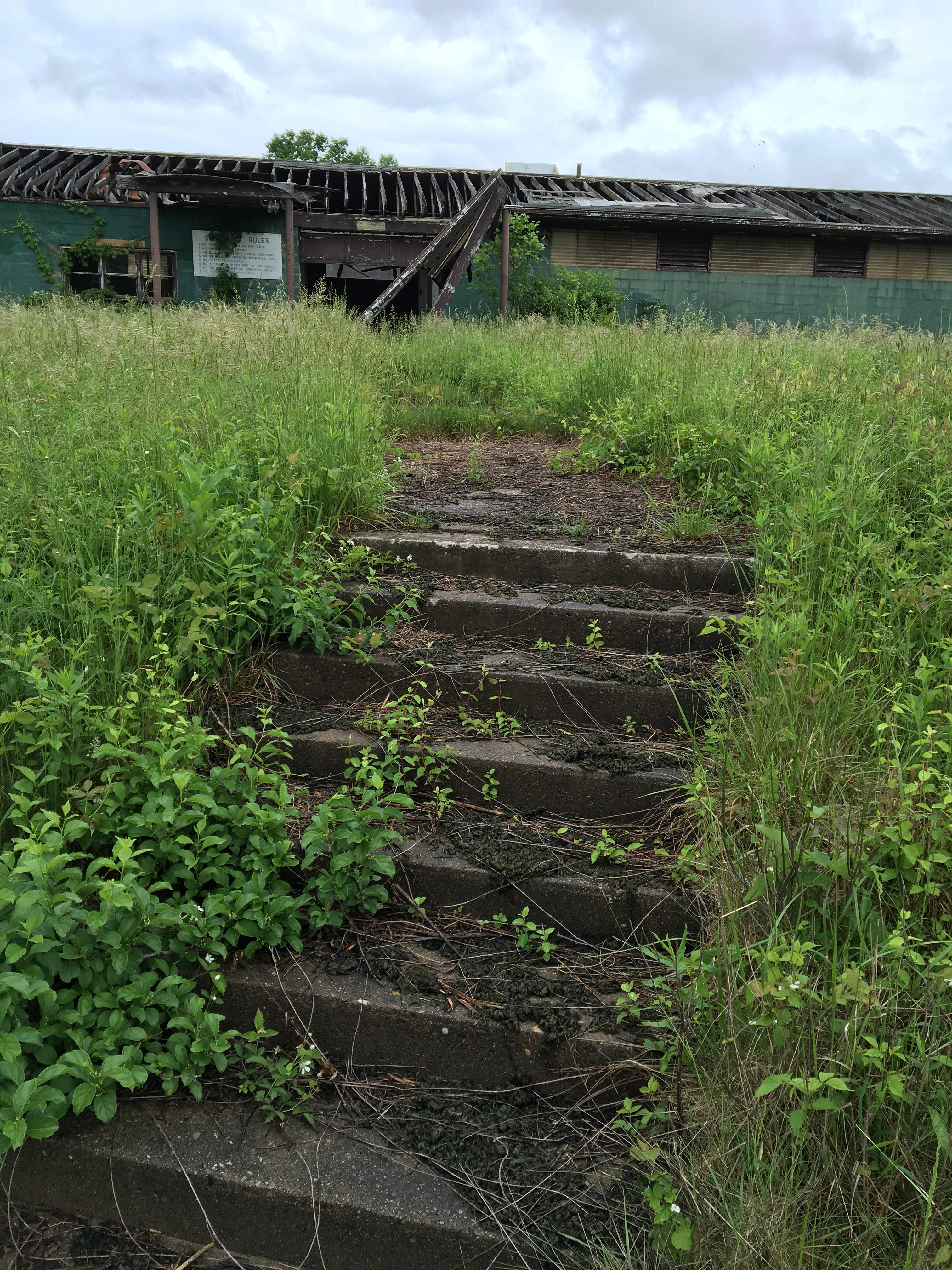 Although that day I only saw two geese on the lake, their presence was unmistakable. I did not even attempt the steps.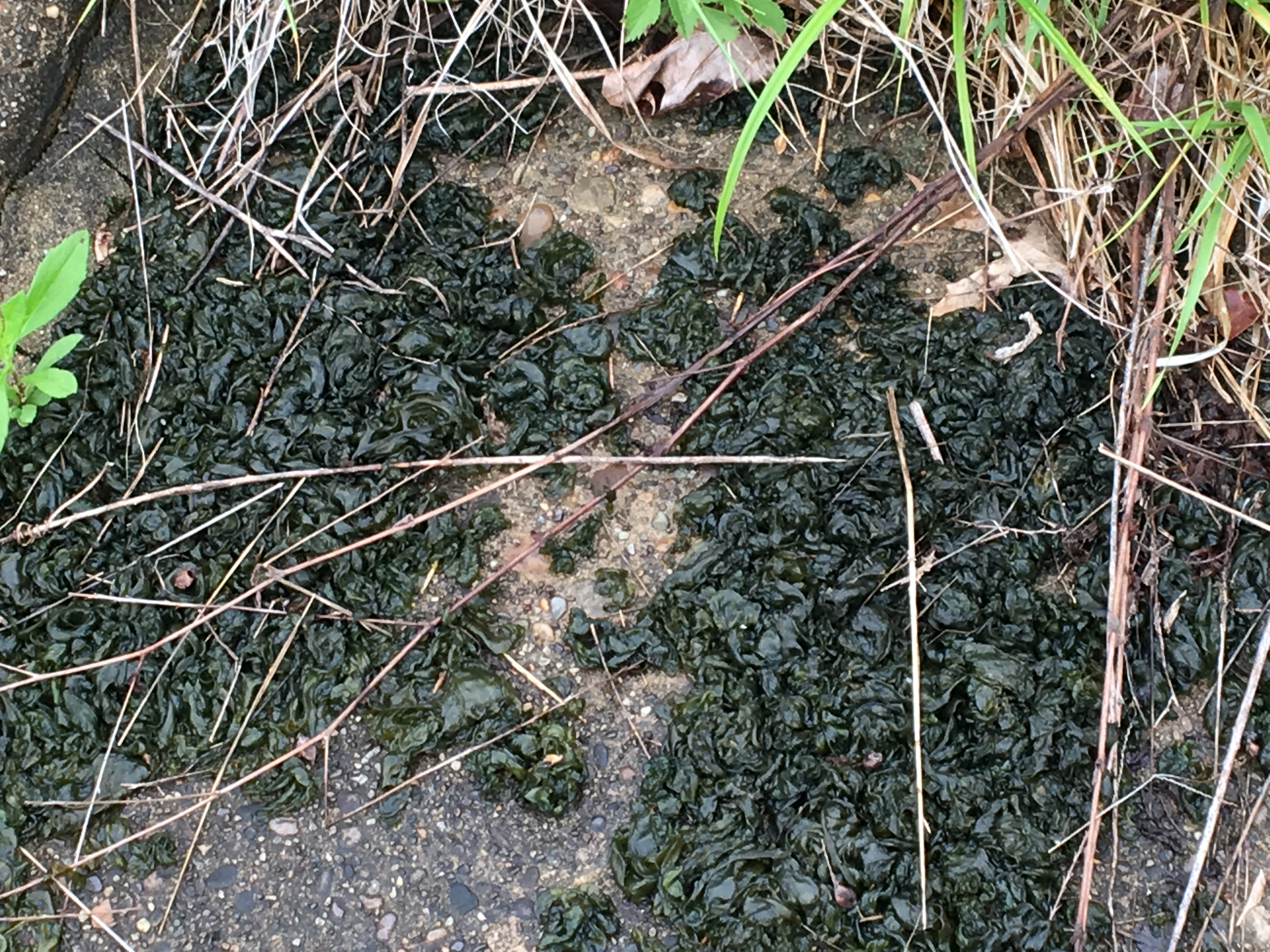 The concrete walkway was cracked and weeds replaced the feet of visitors from the past.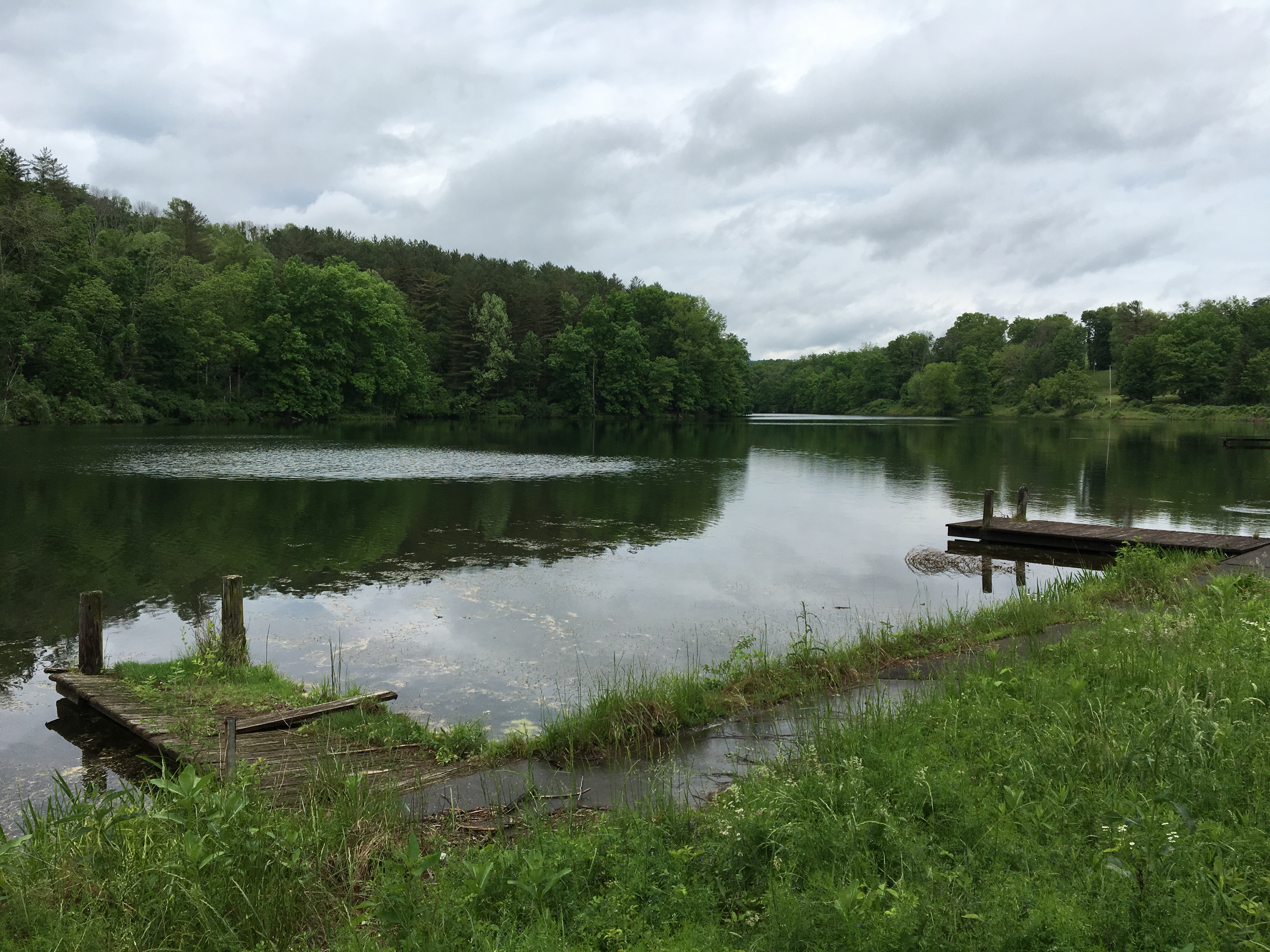 The wooden dock that once held the platform for our diving board was warped, moss-covered, and splitting.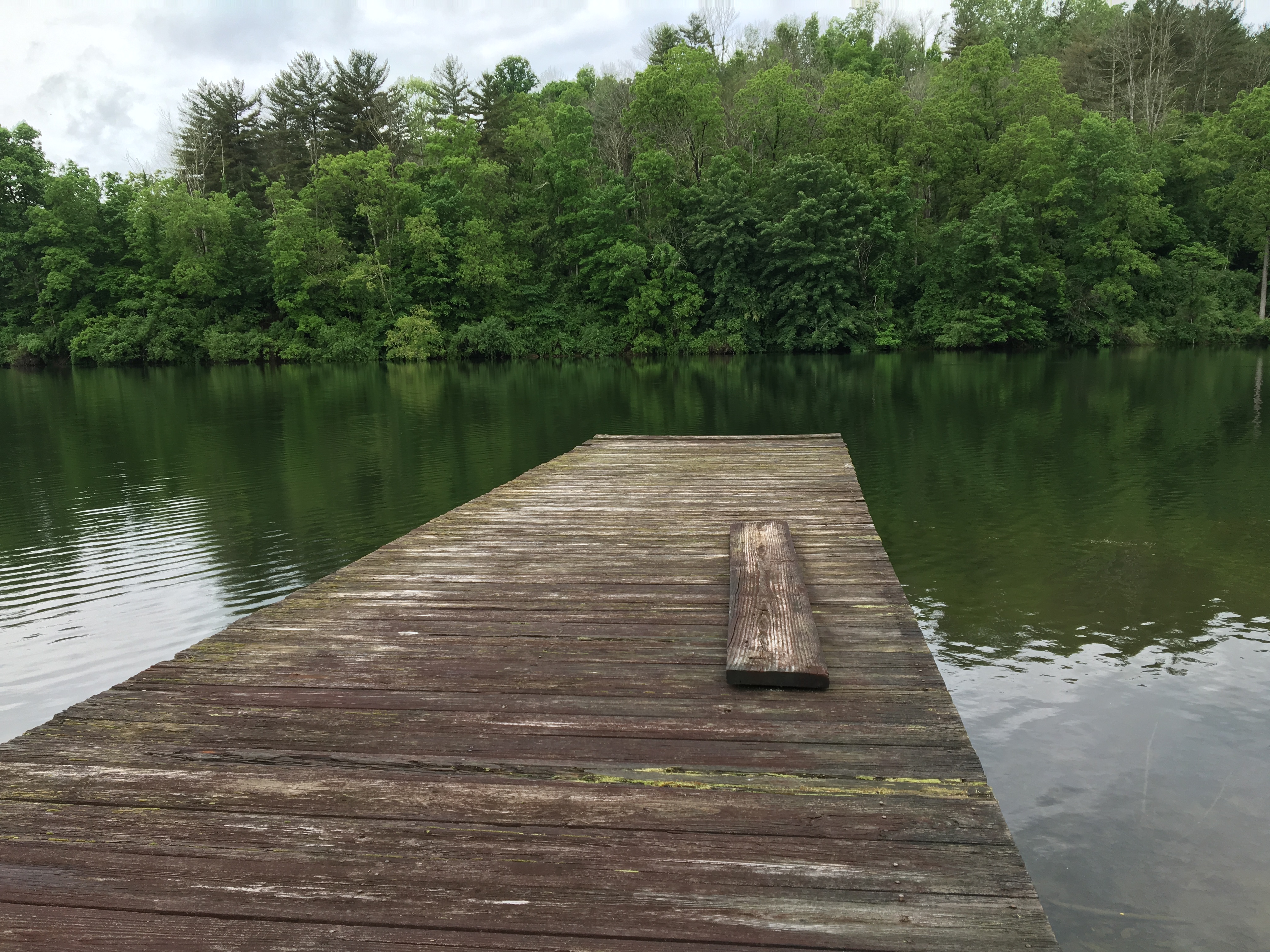 This could have easily been the steps and ladder where Robin and Lynn had their picture taken in 1969.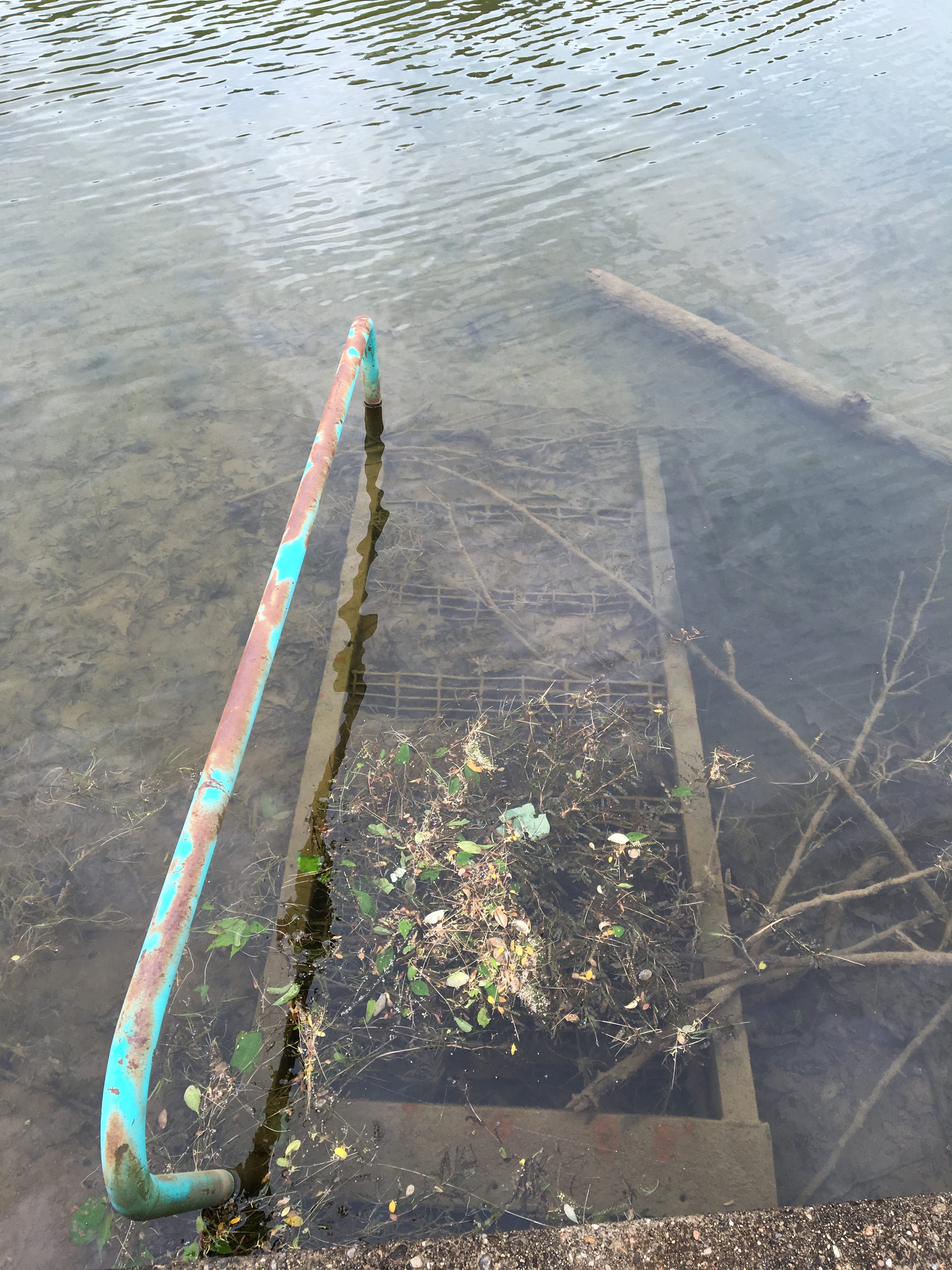 The slide that once held laughing children and launched us high in the air sat silent and rusting, far away from lakes-edge.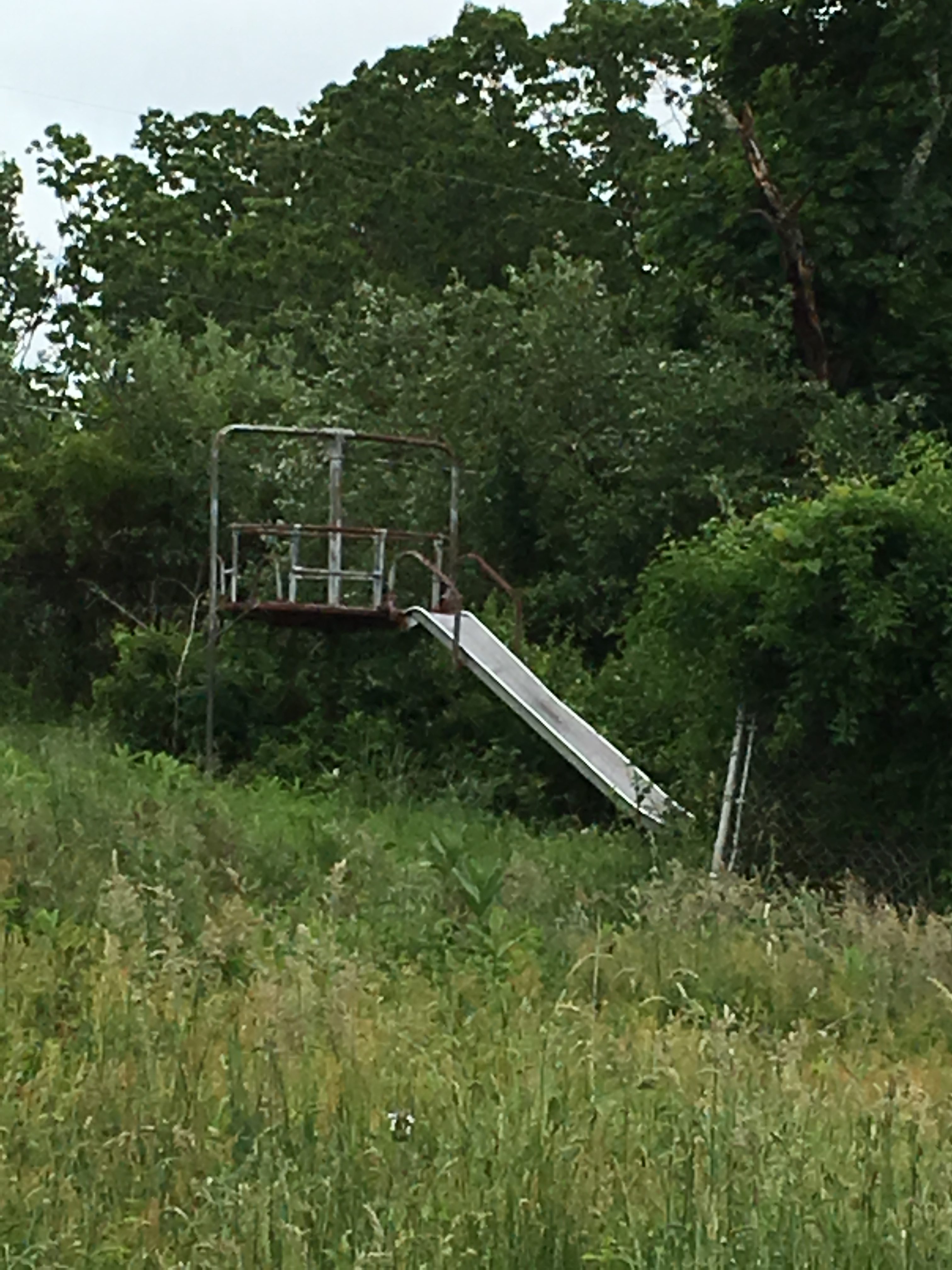 Even though there were high weeds and rust everywhere, there were signs of what was...once.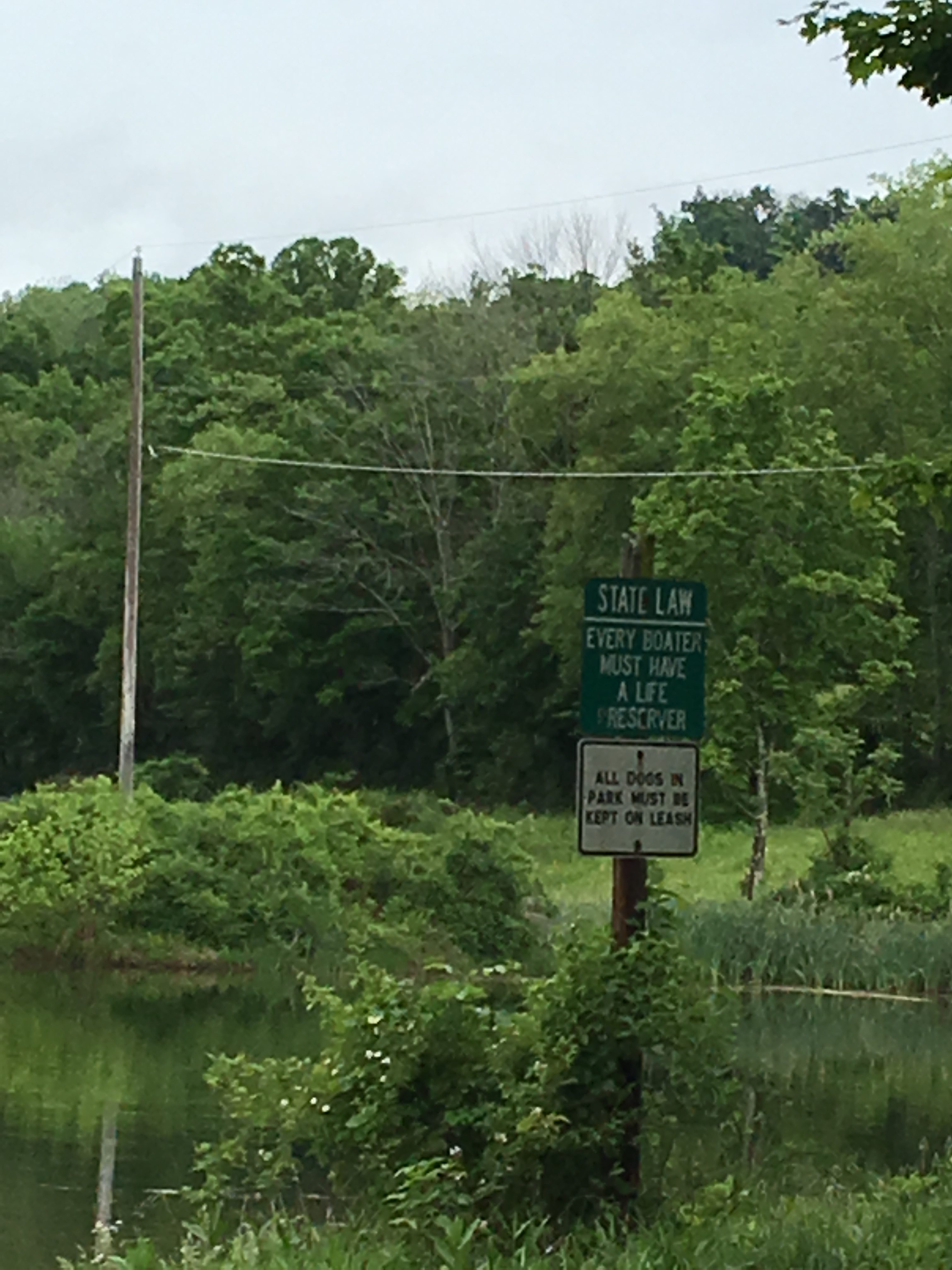 As I was about to leave,  I caught a glimpse of this sign.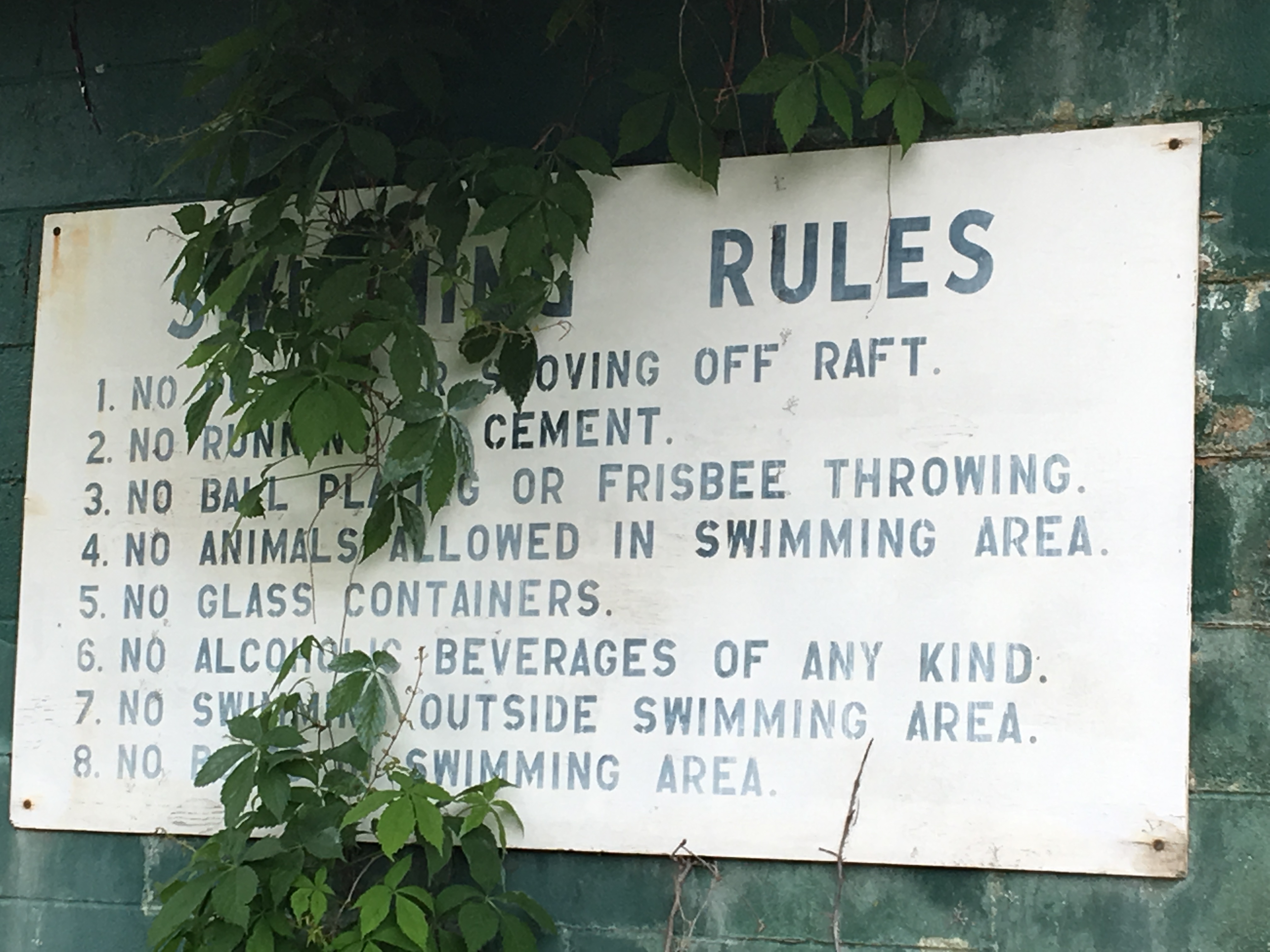 And then, I turned around and saw what was still there...a beautiful lake that is begging to once again hear the laughter of children, to provide a wholesome place for families to gather, a place for a father to take his son or daughter fishing, and a gathering place where young love can blossom - like Lynn and Robin's.



(picture provided by Bill Sauerwine)
(picture from FB, Beautify Buffalo Lake)
When I returned to my truck, I stopped and turned around to take a final look at the Buffalo Lake before me...what it was "Now."  It made me so sad. Not sad for myself, because I have wonderful memories.  But sad for the generation that came after me...the young families today,  the children, and the teenagers who will never know the simple pleasures of a Saturday afternoon with friends on that manicured grass beach. 
I have no idea what the two principal partners of Buffalo Lake Development LLC have in store for this once beautiful piece of property. However, I hope the name "Buffalo Lake Development LLC" just might be a clue - focusing on 'development.'  I am sure they have plans for the property. But, what are the plans? From 2005 to present, each year it looks worse than the previous year. 
This was once such an important recreational area. And, it could be one again...if it was re-purposed as such. However, as businessmen, it usually comes down to profit and I guess there would not be enough profit in 
reviving the lake as a  recreational area.  On the other hand, beautiful lake-front homes strategically placed along the shore could generate a considerable profit. Or, could we possibly see and support a five-star lake-front restaurant on the sight of the crumbling bathhouse?
Imagine the atmosphere while sitting on
 an expansive deck overlooking a beautiful lake, enjoying your favorite selections from a diverse menu of fresh seafood, perfectly grilled steaks, or an array of flame-kissed vegetables prepared over an open fire. You toast the evening while you watch the sunset over this...


The Buffalo Lake I remember "Then" is not the Buffalo Lake I see "Now." But, it does not have to remain that way. With vision, the right amount of resources, and a desire to create something of beauty, whether it be a revived recreational area, beautiful homes, a five-star restaurant, or even a well-maintained nature area...it can and should be done.  Done, not for my generation, because we have the memories. It should be done for the young people of this generation. 
Buffalo Lake Development LLC...what is your vision?
Thank you for taking the time to indulge an old man as he walks with memories and dreams about not what

is,

but what could be. 
I will continue to develop this series "Then &  Now"  and look forward to your feedback and suggestions. 
Special thanks to Bill Sauerwein, Judy Stalensky-Reider, Lynn Newhouse (and Robin), Richard Duez, Tisha Elko Lang, and those who maintain the Beautify Buffalo Lake FaceBook page for all your help.  Many people looked long and hard to provide pictures and information. I hope it evolves into something positive. One thing I know for sure, Buffalo Lake does not deserve to keep crumbling.
Until next time, 
Michael