The City That Was     -     The City That Is
"The single most important thing a city can do is provide a community where interesting, smart people want to live with their families."
Malcolm Gladwell
On June 1, I published "Clarksburg in the Spring," an objective look at my hometown of Clarksburg, West Virginia. Also, within this piece, I presented pictures provided by Linda Young-Greswell of her village of Streetsville.  If you missed, or would like to re-read this story, you can go to 'Archives,' June, 2018. Streetsville is my vision.

As I stated earlier. I wanted to write a follow-up about a place near and dear to my heart.  A place Sandra and I spent 32 years growing…growing in years and growing as individuals.
I have titled this, "The City That Was – The City That Is" - a look at what our home was like when we moved there (Was) and what it has become (Is). As before, I will let the pictures 'generally' speak for themselves and hold my commentary until the end.
Upfront and personal: I would like to thank a dear friend Janice Rogowski, 'Riggo'  as I affectionately call her, for providing many of the pictures. She and Sandra worked together for eight years and we-three became life-long friends.
As you read and view these pictures, please keep in mind: Years have passed between "Was" and "Is,' but the "Is' was created by hard work, leadership that knew what they wanted to create and found a way to make it happen.
And now,
"The City That Was"
There was no regulation of signage... size, location,what could, or could not be displayed in windows. If there was (regulation), apparently they were not enforced.


(pilotonline.com)
Signs hung low, high, and protruded over the entire width of the sidewalk.

(pinterest.com)

(Pinterest)
However, the City Council and other city and community leaders worked together toward  a common goal "Clean it up! Make it attractive. Take back the streets"
"This is "The City That Is"
The streets are clean. Neat. Attractive.
Yes, these are the same streets.

(fineartamerica.com)
Notice the signage, attractive storefronts, and landscaping.

(aaroads.com)
Flowers, trees, benches, and outside dining abound.

(vbbound.com)

(vbbound.com)

(tripadviser.com)
Night is turned into day – safe and welcoming.

(schuminweb.com)
"Riggo' - Janice Rogowski sent me these photos in the early Spring.
Quite a difference from the early days.
The City opened its arms to the artists, allowing them to expresses themselves in some unusual places.

(Riggo)

(Riggo)

(Riggo)
Benches are plentiful…inviting strollers and shoppers to rest awhile, visit, enjoy the view, or sit on the bank and fish if they like.

(pinterst)

(Riggo)
Every city or town has beautiful views. They just need to open their eyes and take advantage of what is in front of them.

(Riggo)

(Riggo)
Thank you 'Riggo' for these beautiful pictures. They bring back so many wonderful memories. Especially when I can remember …
What 'WAS"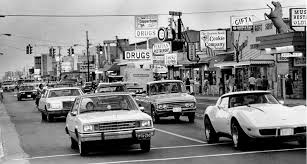 And lived their long enough to see
What "IS"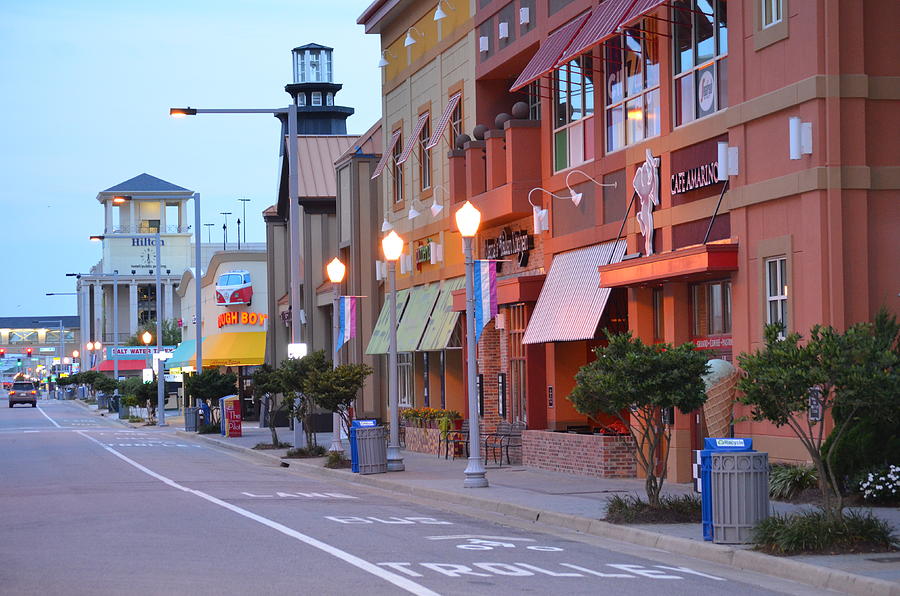 As I look back through all these photos, I recall vividly the many political fights, Council meetings lasting to the wee hours of the morning, deals made, and the personal struggles and sacrifices it took to accomplish what you see in these photos.
I remember how the Council banded together to fight the business owners over signage, 'tacky' facades, unclean windows, distasteful and offensive window displays, and even inappropriate behavior and language on the streets.
They rejected the political threats, fought law suits, and stood up to the lobbyists, and the rich and powerful.  The council survived infighting, name-calling, and accusations of back-room deals.
Their differences were loud and many, but they did share the same vision. They just disagreed on how to accomplish the vision. However, there was one reoccurring theme,

"If we do not have an ordinance to solve the problem…we will write one!"

   They stayed at it until the following were eventually accomplished:
Signage overhang and size were restricted.

Signage had to be submitted for approval.

Storefronts were required to be clean, neat, and attractive.

Inappropriate or suggestive window displays were prohibited.

Unsuitable behavior, foul language, and even loud music resulted in citations.

Unoccupied buildings fell under newly-written strict codes and were given a time-frame to develop, or face stepped up fines/taxes and eventual condemnation if they did not comply.

Green space was created where a few dilapidated/condemned buildings had existed. These spaces became small parks, full of art and entertainment opportunities. One in particular featured a "Walk of Fame," busts and plaques featuring notable city contributors, sports figures, and other famous people who called this place home.


Bars and 'night clubs' faced strict patron behavior ordinances.

Police presence was greatly increased. An Auxiliary Police force was recruited and trained and widely used for special events.


Local ministers and priests were often seen on the streets at night and during the day as needed…doing their part.
Of course, these changes did not happen overnight.  Council members came and went, but the vision stayed the same. Within two years, after the transformation plan was introduced, locals and visitors saw significant improvement.  And gradually, 'tacky' became attractive and welcoming.

Today, years later,  the main streets are unrecognizable - a vision accomplished -  "Clean it up! Make it attractive. Take back the streets."  
I hope you have enjoyed my little tour of "The City that Was - The City That Is." And perhaps, just perhaps, you will walk away with a few thoughts of your own.
To "Riggo:" You will never know how much we appreciated the time it took to drive around the city and capture memories. The ones of our home in Pungo - so special to see the new owners taking such good care of what we loved for so long. The home is so well kept and the trees we planted by hand... I still remember Sandra saying, "Now, you can reach for the sky."  Today, they are magnificent stately oaks, truly touching the sky.
With that being said, It is time to say goodbye.
Until next time, always remember, "It can happen!"