Special Places… Then & Now     Part 2
The Oral Lake I remember
"We didn't know we were making memories. We were just having fun." -
Unknown
This is Part 2 of a series of pieces about places I remember as a child (Then) and what they have become (Now).
Today, we will travel to Oral Lake Fishing Club, a few miles from my hometown of Clarksburg, West Virginia. Traveling East from Clarksburg, you drive through Bridgeport, and a couple miles further, you will come to Oral Lake.
As a middle school student, and extending through my high school years, Oral Lake Fishing Club was one of my regular swimming holes. Although a private lake, I was fortunate to be neighbors and close friends with two girls whose family were members.
On many a hot Summer day, their mother would load us in her 1956 black Ford Fairlane for a day of swimming and child-like fun. Although 11 miles from our homes, it seemed like it took forever. Remember, they were 1959 roads. Once we arrived, their mother would drop us off and tell us what time she would be back. Different day and time …back then.
We traveled light. The only thing we brought was a towel and a couple dimes for soft drinks…or 'pop' as we called it then. Behind the club house, on the right was the men's restroom and changing room. The women's was on the left. I can't remember what the girls did with their clothes, I just tied my pants legs together, stuffed what I could into my pockets and the rest into the legs.
The rest of the day was spent jumping off the wooden pier, diving from the diving board, and swimming to the center of the lake where there was a large deck. Hours were spent throwing each other off the deck. One thing you never did while holding onto the side of  deck was keep your legs still in the water. Keeping them still meant the bluegills and sunfish would 'nip' at your toes and legs. For my non-lake swimmers, it wasn't as bad as it sounds.
Since we belonged to the same church, the girl's family also sponsored many church picnics at the lake. Of course, with our parents and minister present, the behavior was a little more civilized. A little.
This is what the Oral Lake club house looked like in 1930, 20 years before my time spent there. This was Oral Lake Fishing Club… "Then."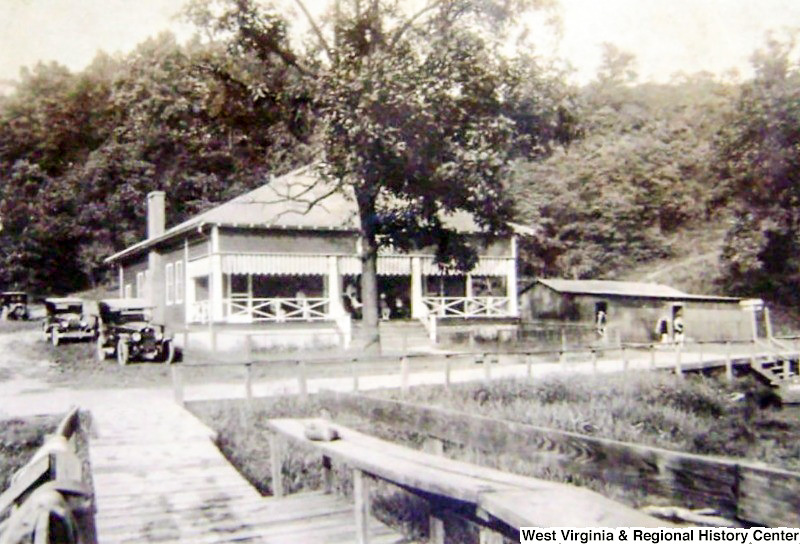 The Oral Lake Fishing Club … "Now."      It will surprise you.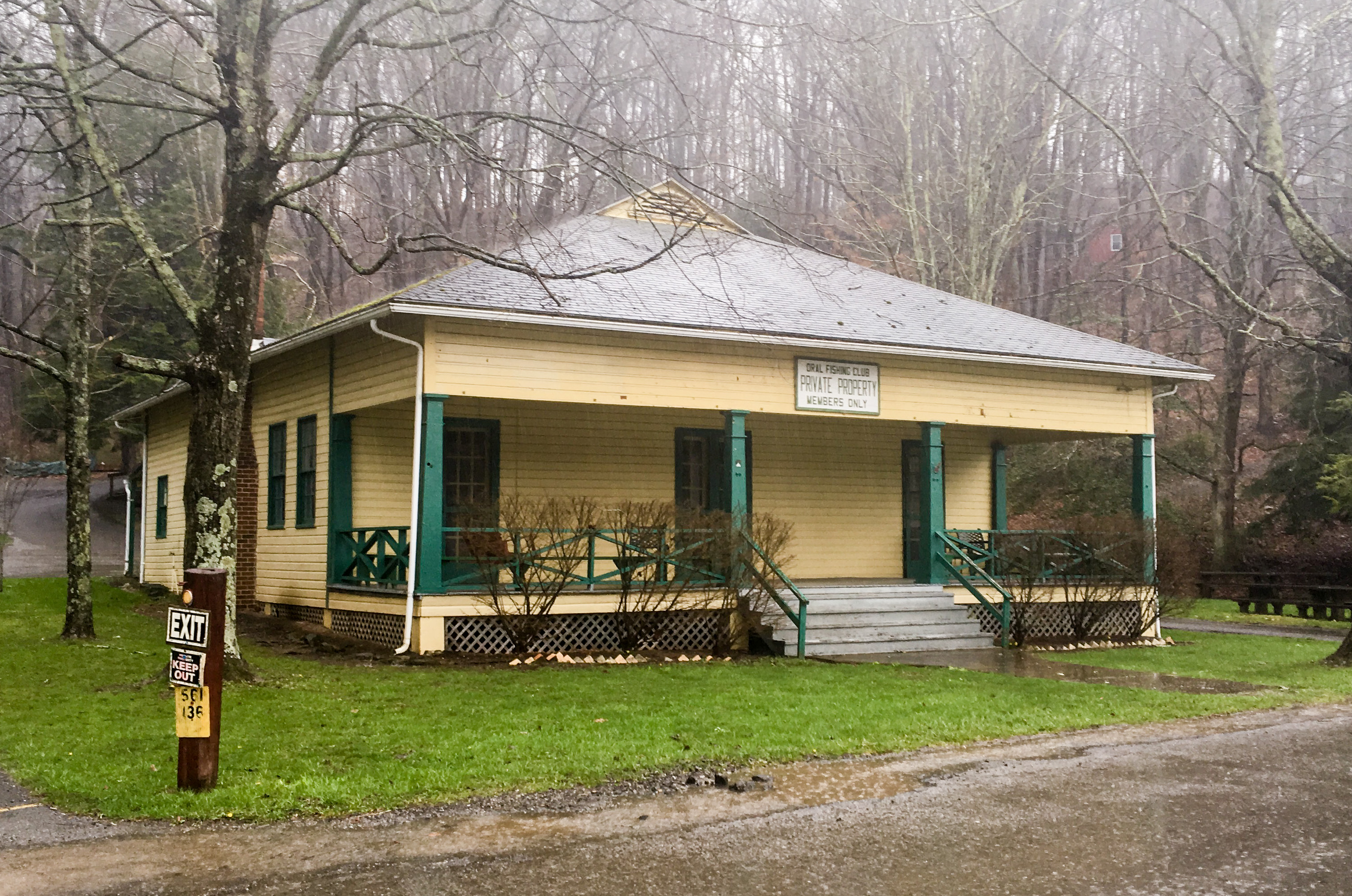 As you see, unlike my beloved Burger Chef, which is now a day care center, little has changed with Oral Lake. That my friends, is a wonderful thing, at least it is wonderful for me. Basically, the only significant difference I can see is (I believe) that there was an exterior color change. For some reason, I remember the clubhouse as white. Probably wrong though.
Even the bathhouses/changing rooms remained the same – 55 years later.

As I stood on the cement pier, which was wooden during my youth, with splinter-scars to vouch for that 'woodness,' I looked right and saw another familiar sight – the 'slide of death.'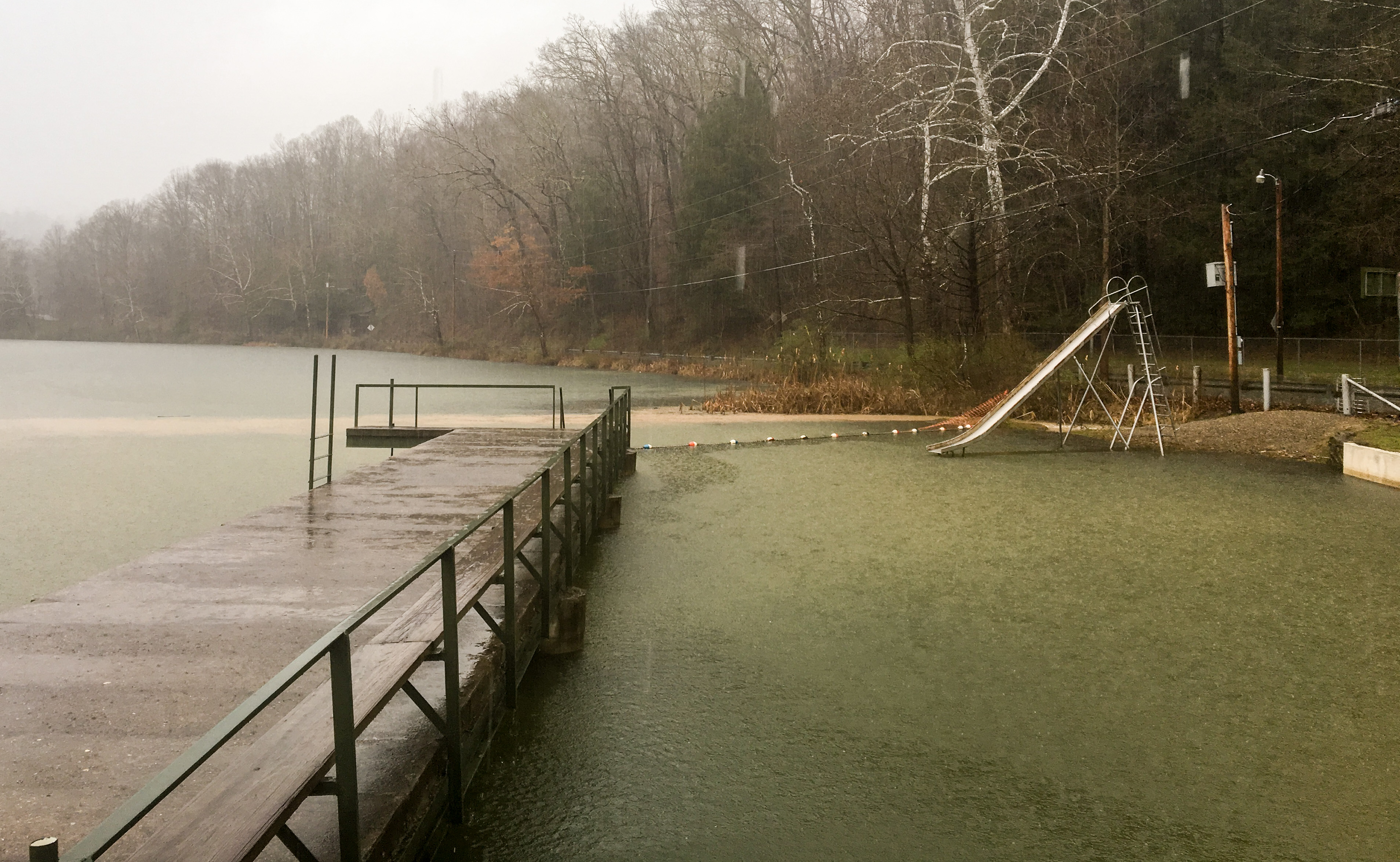 Not only was the height a little scary when we were young, if you did not carry a cup of water up the ladder to wet the slide or have a friend at the bottom splash water, coming down could be a little hot and stopping half way on a hot slide is nothing one easily forgets.
It was raining rather hard the day I took these photos, but in no way did it dampen my memories.
I took this panoramic picture from the front porch of the clubhouse. It was raining so hard the road looks like part of the lake. If you look carefully to the center of this photo, you can see the deck. We were so silly then. But life was so simple and so much fun.


Today, nice picnic areas and a playground flank the clubhouse. If you look at the 1930 photo, you will see the picnic area to the right was once barns or storage areas.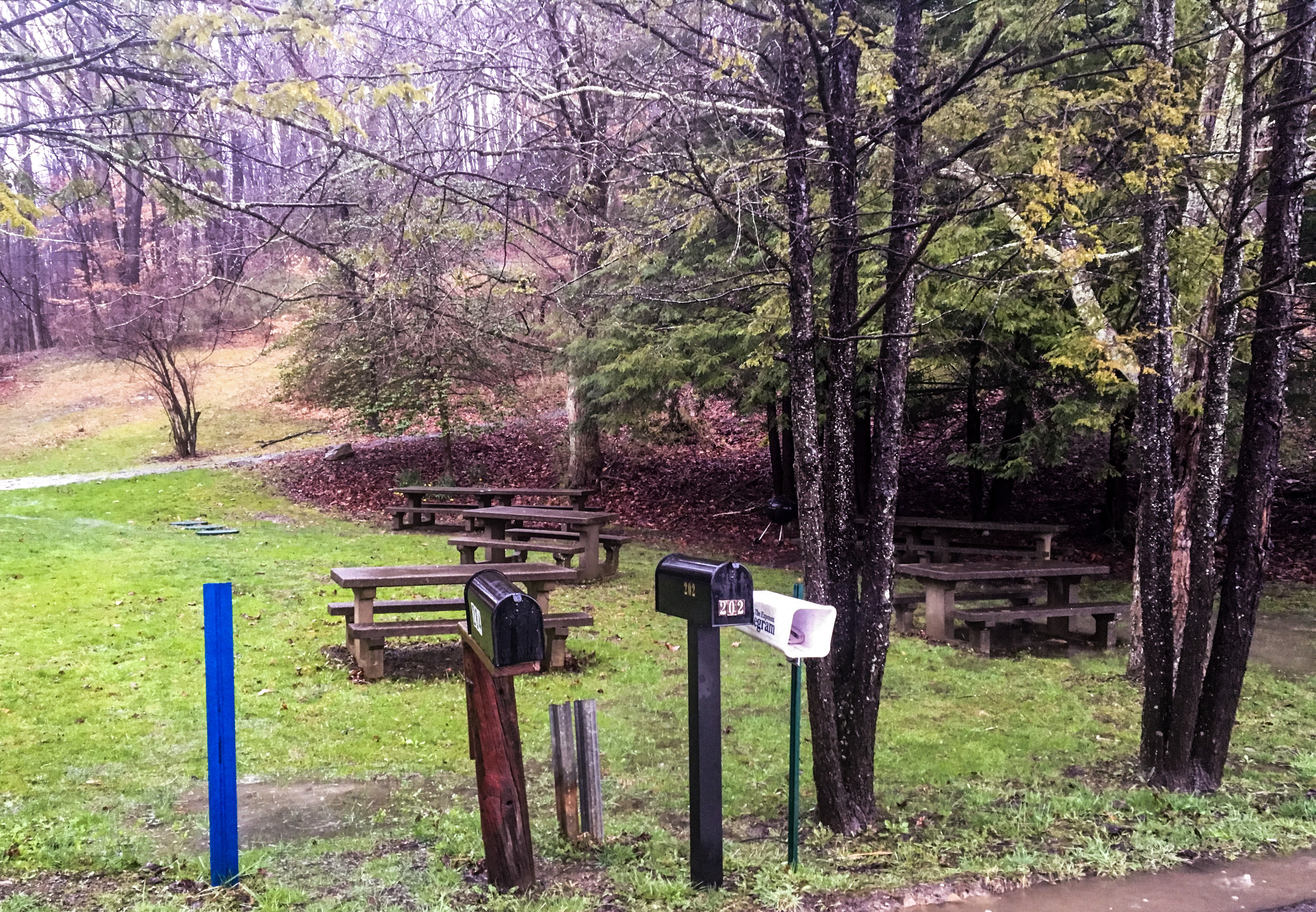 In 2005, the year Sandra and I returned to Clarksburg after a 32-year absence, I drove to the lake to see what had changed. When I rounded the last bend in the road, inside I became an excited 13-year old. The Oral Lake I remembered from "Then" was basically the same "Now." And I smiled. There have been a few updates to the facility, but the quaintness and charm was still there.
I parked right beside the clubhouse and walked up the front steps and through the front door. It was as if I had never left.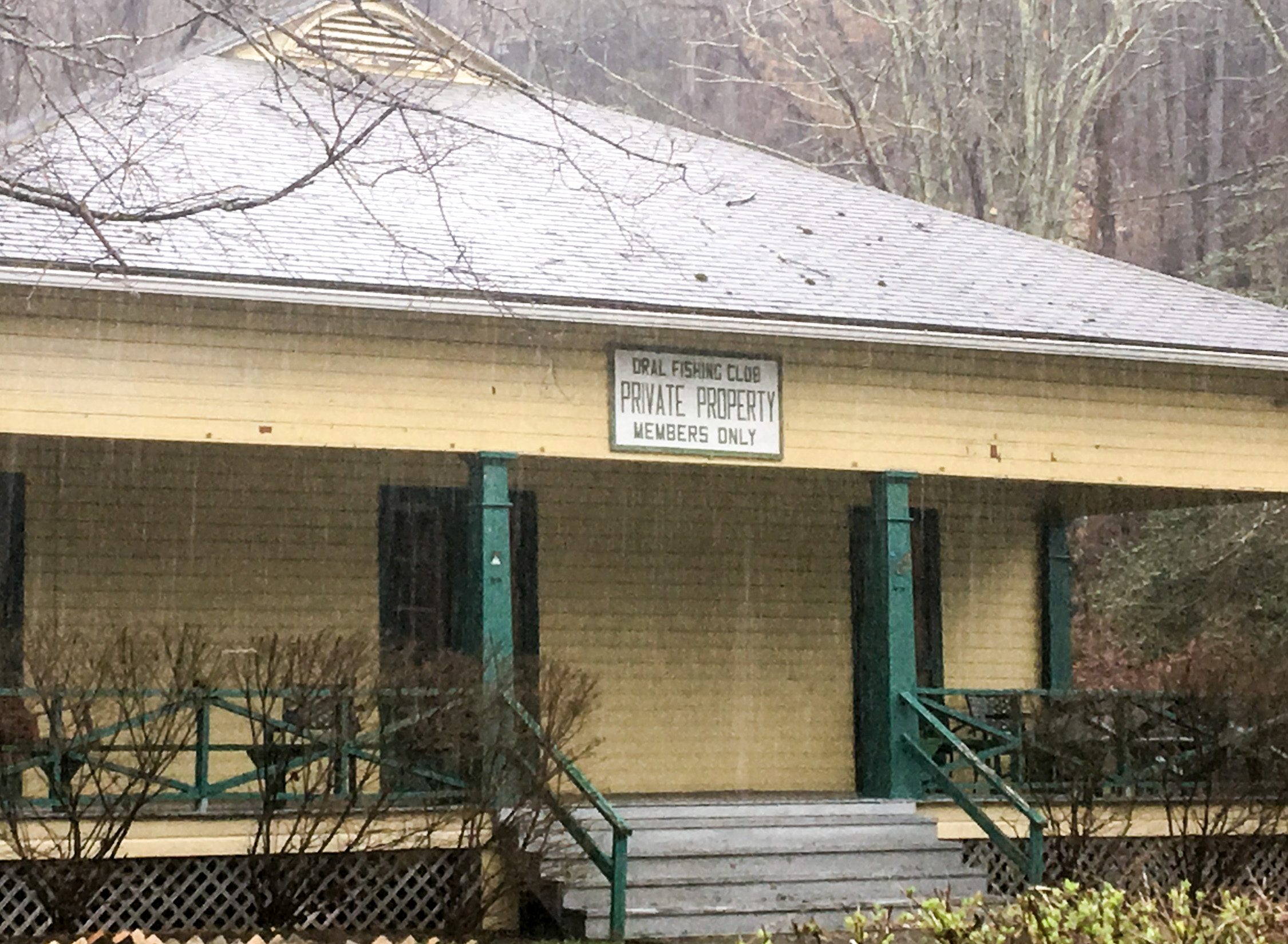 I couple years after we returned, we were fortunate to become members of Oral Lake Fishing Club, adding to the wonderful memories. Now, the lake becomes a bit of a sanctuary from the craziness around us. A quiet place for a picnic. Watching the geese land and swim about and the other waterfowl compete for choice vegetation clears my head. Fishing from the banks and dock reminds me of my youthful days on the West Fork River.
Sandra enjoys the peacefulness of sitting on the club house porch and reading her favorite book. The occasional smell of charcoal and the far-away laughter of children in the playground excite my senses.
Yes, sometimes we become fortunate to be able to step back from "Now' and enter "Then." That, has become especially important to me in an ever-changing fast-paced world. I hope you have your own special place...a place of little change.

That's about it for today my friends. Not sure where my camera or thoughts will take me next time, but I invite you to come along for the journey. I have much to share.

And that is the way I see my world…Until next time.
Michael